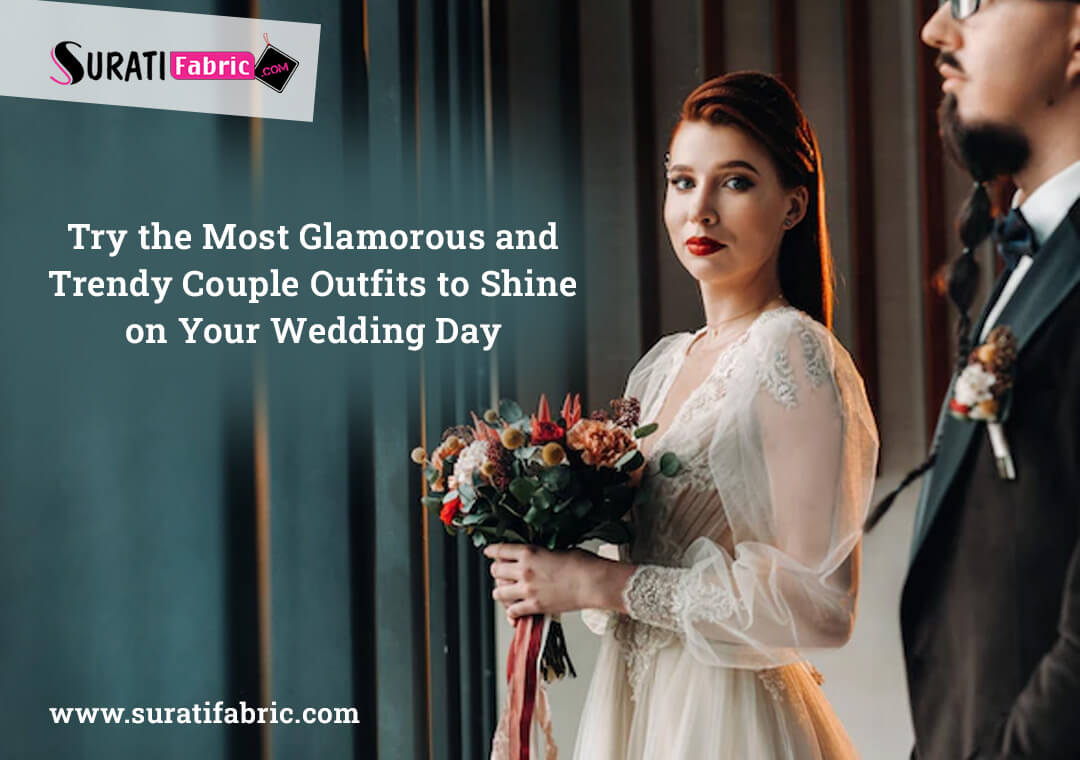 Wedding is obviously the most vital and memorable day in everyone's life. Every bride and groom wishes to wear the most adorable couple dresses for the wedding to complement each other beautifully. Couple outfits for weddings are thoughtfully chosen that can go well with the decor of the wedding hall, the location's inspiration, and so on. Color-coordinated couple wedding attire for the bride and groom is highly fashionable these days, and there are numerous unique couple outfits available to flaunt a similar style without entirely replicating each other.
On their wedding day, a bride and groom may wear couple outfits For wedding in matching or even contrasting color to look stunning together. The couples' wedding attire may be complementary or discordant. You might choose a matching wedding attire if you wish to twin with your partner on your wedding day. If both of you are struggling to find the best couple outfits for your big day, take inspiration from our top-listed gorgeous and trending couple dresses for wedding.
Wide Assortments of Exquisite Couple outfits for the Wedding Day
A perfect thematic wedding is the dream of almost every bride and groom. Ever since you met your future spouse and started planning your wedding, the question of what to wear on your biggest day continuously comes to your mind.
To achieve the most stunning look and get all the attention on their wedding day, both of you need to wear the ideal couple combination wedding outfits . However, choosing the best couple outfits for the wedding is not a simple chore. In order to assist you in choosing the most alluring couple attire for your biggest day, we have put together a list of stunning couple costumes for weddings that will enable the two of you to rock your wedding day together.
1. Traditional Red Banarasi and White Dhoti and Punjabi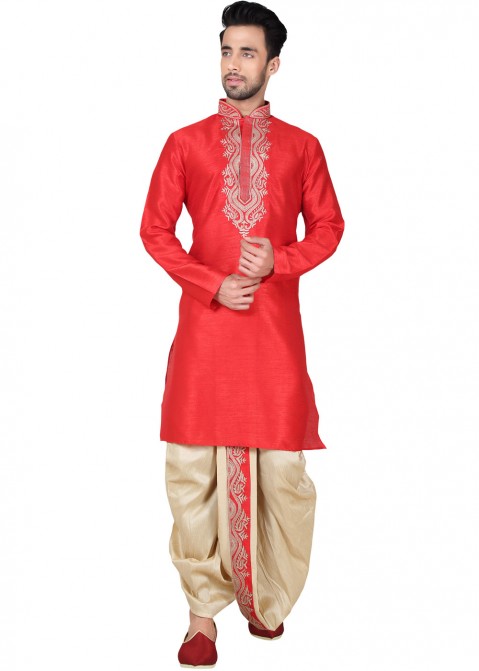 The color combination of red and white is unsurpassed in the world because it symbolises love. A traditional and gorgeous red Banarasi saree and white Punjabi and Dhoti is a classic couple outfit for weddings that is usually worn by Bengali brides and grooms in a traditional Bengali wedding.
This traditional couple outfits for wedding is the greatest option for adhering to rites. The gorgeous red Banarasi can make the brides look glamorous while the white Punjabi and Dhoti combination offers a graceful look to the groom. This elegant couple attire is the best option for you if you and your partner wish to get a full desi vibe on your biggest day.
2. Golden Kanjivaram Saree and Golden Sherwani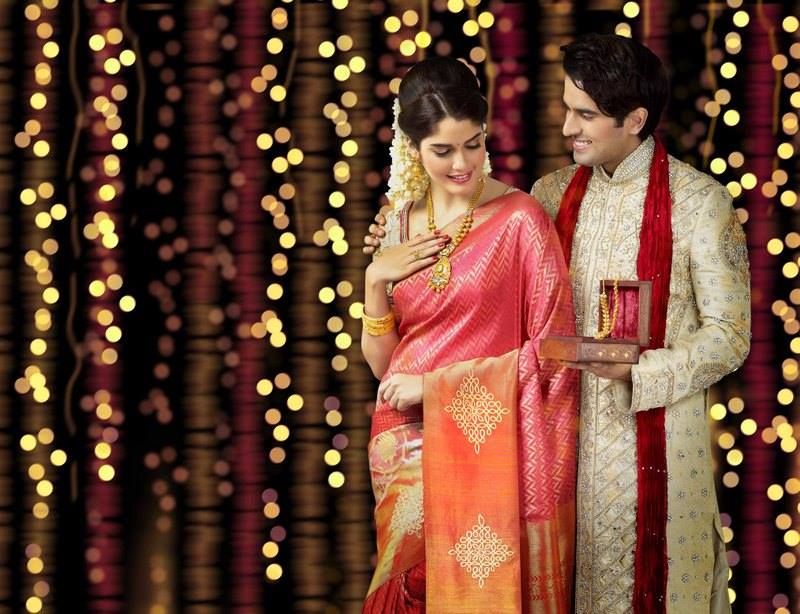 This extremely gorgeous and royal couple outfit for weddings is the greatest outfit option for those couples who want a glamorous look and full royal vibe on their wedding day. Famous Bollywood celebrities Deepika Padukone and her husband Ranveer Singh both opted to wear this royal couple attire to their reception and they were looking extremely stunning and attractive.
On your wedding day, the groom will wow the guests by donning a stunning and golden sherwani, while the bride will appear incredibly gorgeous in a golden Kanjivaram saree. This traditional couple attire is also a perfect option for those who want to twin with each other beautifully. Make your wedding night gorgeous and royal with this regal couple outfit for weddings.
3. Contrasting Red Lehenga and Blue Sherwani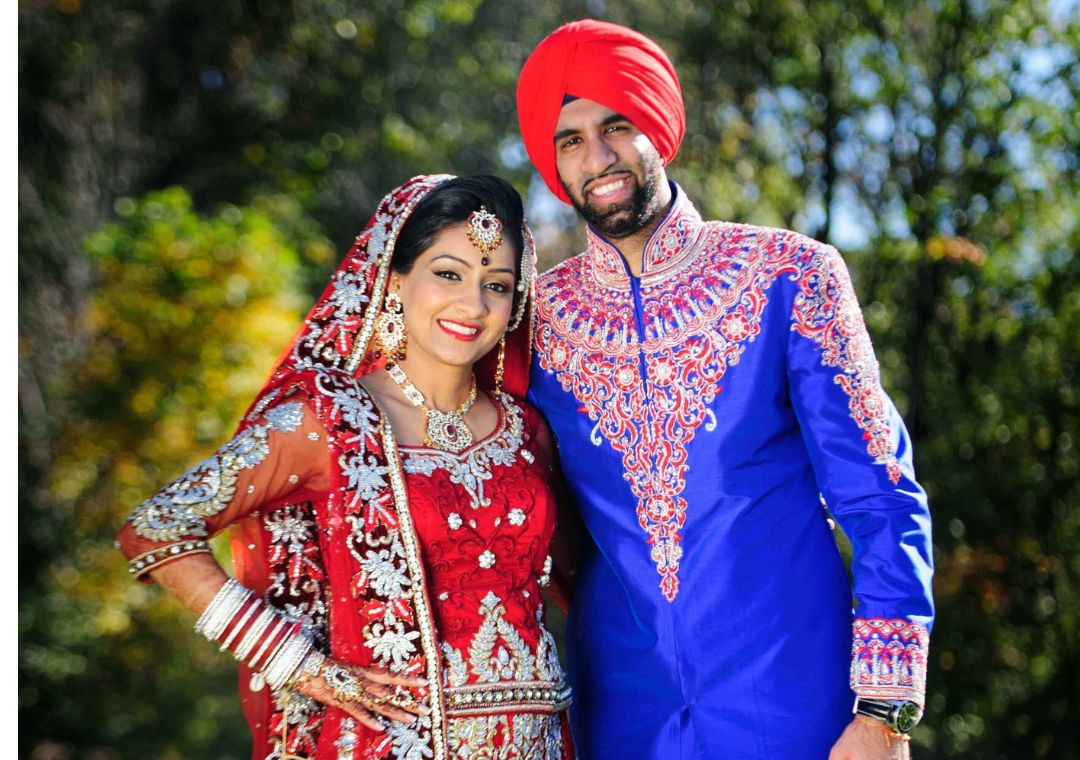 A daring choice for the bride and groom is to wear contrasting couple wedding outfits. If you want to make your wedding day more unique from other weddings with your distinct and striking look, then you should opt for a stylish contrasting colored couple outfits for weddings.
There are numerous different varieties of contrasting wedding outfits available. If you want to get a royal appearance, then opt for a gorgeous red lehenga and blue sherwani. The opposing shades of this stunning and glorious couple outfits for wedding will complement one another beautifully. You both get a very unique and fascinating look by wearing this regal contrasted couple attire.
4. Blush Pink Lehenga and Ivory Colored Sherwani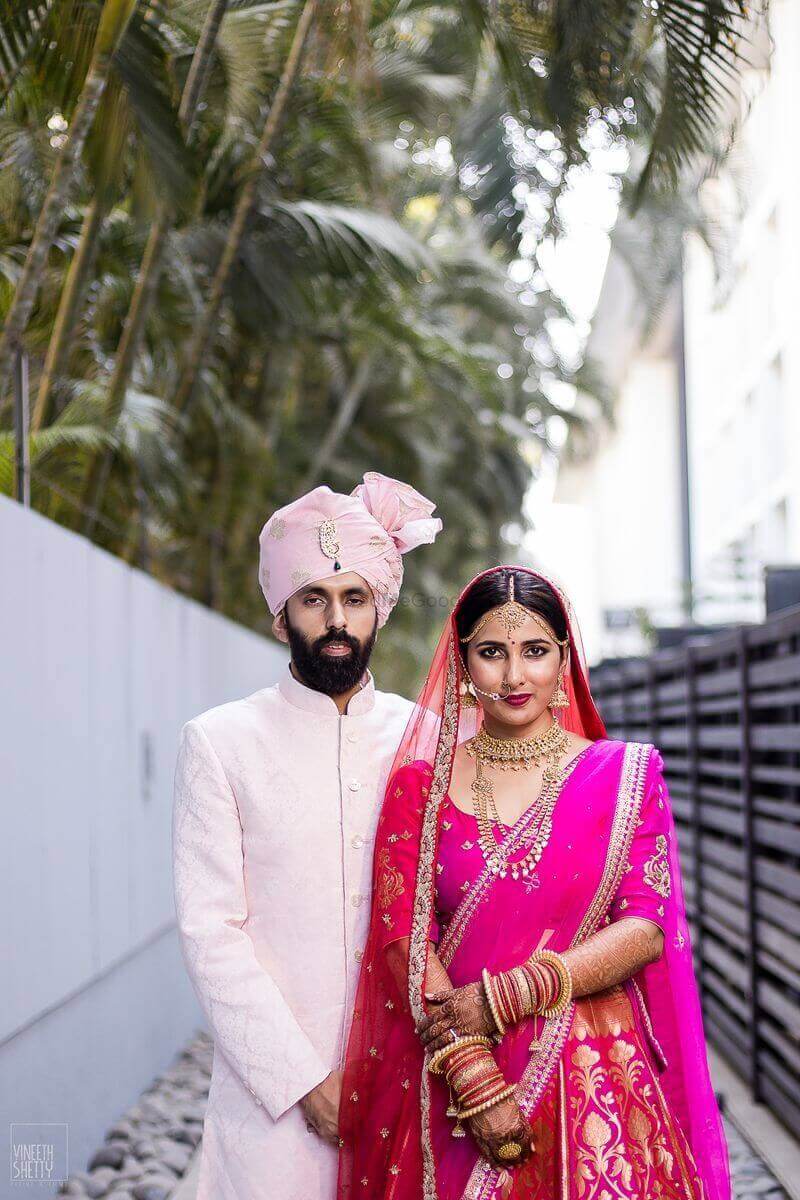 In contrast to ivory, which has a hint of sophistication, blush pink is a lovely and calming colour that conveys innocence. So, a graceful blush pink lehenga and classic ivory colored sherwani is the most elegant and graceful couple outfit for wedding that will make the couple look extremely classy and aristocratic.
A popular Bollywood celebrity Anushka Sharma stunned everyone with her beautiful blush pink lehenga on her wedding day and her husband Virat Kohli, one of the most famous Indian Cricketer also amazed everyone by wearing a classic ivory-shaded sherwani. So, if you and your partner also want to create that graceful and classic look like them, you should go for this adorable and classic couple outfit for wedding.
5. Indo-Western Couple Attire for Wedding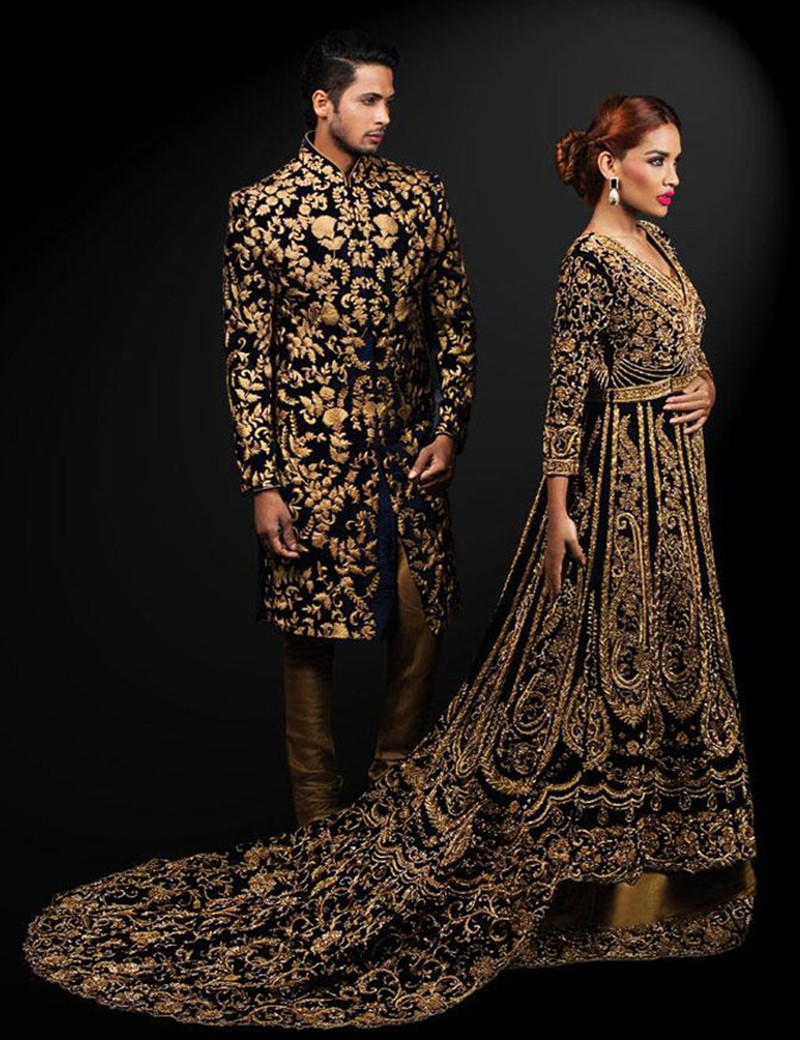 Indo-Western couple attire is the must-try outfit for you if you and your partner want a voguish and unique look on your special day. This ultra-stylish couple outfits for wedding is the latest wedding wear trend that will provide a modern and distinct look to the bride and groom.
There are a bewildering variety of Indo-Western couple dresses to wear on your biggest day. Get all the attention on your biggest day and look appealing together with this stylish couple outfit for wedding.
Get the Best Couple Collection from Surat Suit to Look Stunning on Your Wedding Day
Hopefully, this guide may assist you in deciding the ideal couple outfit for your wedding day to get a stunning look. Visit to Surat Suit, a famous online retailer and wholesaler of couple collection dresses in Surat. A wide assortment of couple collection outfits are available in Surat Suit.
We provide different types of couple collection at different price ranges that can easily suit anyone's budget. Purchase the best-quality and adorable couple dress and compliment each other excellently on your wedding day.