Best Party Wear Sarees – Numerous women are always confused about what to wear at the party, they have various options such as sarees, skirts, dresses, shirts, trousers, chemises, salwar suits, and jeans. But the majority of women like to wear sarees at the party event. Sarees are one of the most elegant choices for women. They select sarees because wearing sarees are enhancing the beauty of women, looking gorgeous, something different from the crowd. That is why for party saree is the best option for girls.
Here we discuss, the top 10 tips which help to choose the best party wear sarees for the party night. It is crucial for girls to choose the best party wear sarees because girls are emotional. if someone talking about wrong regarding their dress sense, they will feel weird. Therefore, our tips are boon for you to select elegant sarees for your party.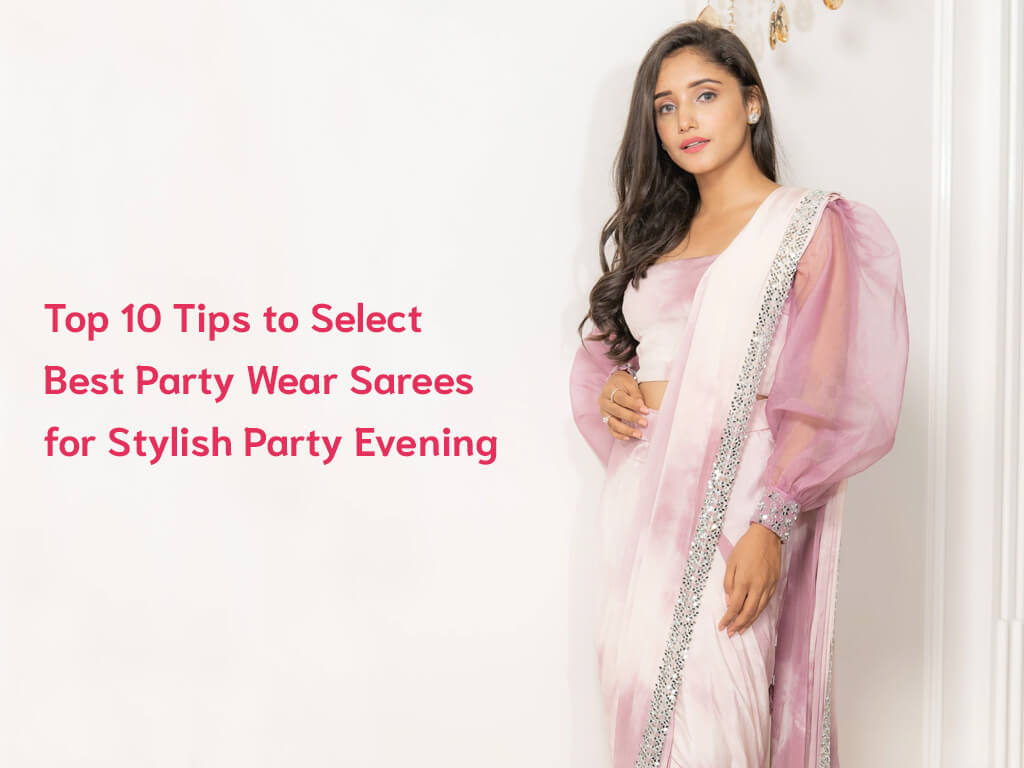 Tips for choosing best party wear sarees for party evening
Before suggesting tips, I would like to confirm that our tips are depending on the general public, If you follow our guidance, you will definitely select the best party wear sarees for party.
1) Select the perfect color for party
There are various types of colors are available in the market, but few of them are suitable for parties. Here I will explain a list of colors that are preferred by expert designers.
Royal Black
white
Mustard yellow
Earthy green
Royal blue
golden and grey
Golden and maroon
golden and silver
pink and maroon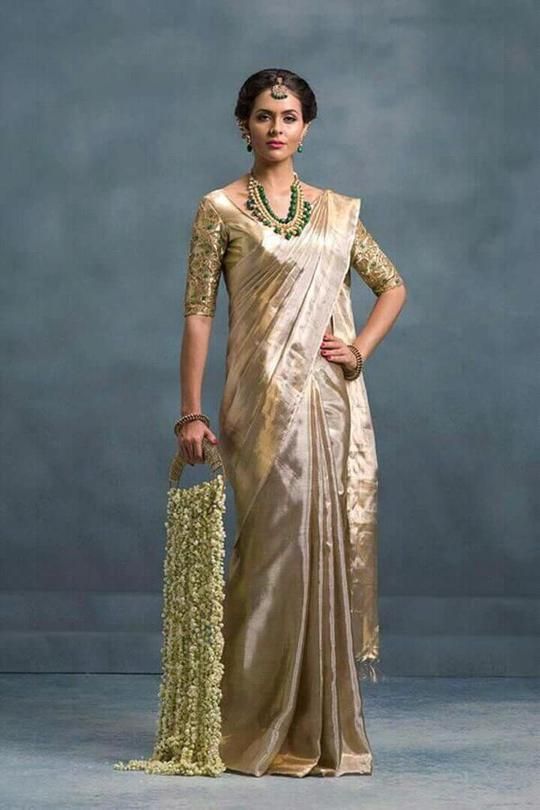 These are the top best colors that are frequently used by women at parties. Additionally, there are various other colors also available in the market. If you are not comfortable with our color, you should wear your favorite color as well. make sure, dark colors are least favorable in parties' function.
2) choose sarees depending on your body shape
It is good for females to have comfortable fit sarees, otherwise, they look weird. There are numerous types of body shapes women have. As per my suggestion, I believe that you need to know about your body shape. Because different types of sarees depend on different body shapes. Still, it is not proved that women are not looking gorgeous until they have not perfect body shape, so we can consider that every type of body shape is suitable for party wear sarees designs.
3) color of skin
There are numerous researches have been done by multiple fashion industries experts is that skin color plays an indispensable role in improving women's fashion style. Majorly, there are four types of skin color people in the world, dark, brown, fair, and white. If your skin is dark and brown, you should avoid wearing a light color saree but a few light color combinations are also suggestable. On the other side, for white color skin girls are chosen various kinds of colors such as Magento, maroon, sky blue, pink, and various dark color combination.
4) select the perfect fabric for sarees
When you are select the best party wear sarees, At that movement fabric also important. The good quality of the fabric enhances the quality of sarees, and it looks beautiful. As per my suggestion, I believe that for the best party wear sarees silk fabric is the first choice of mine, Then after, cotton, satin, and linen fabric are good for best party wear sarees.
5) select suitable print
Another important factor is the print of sarees. The majority of ladies avoid wearing simple saree at parties. Therefore, wearing good print sarees is important for them. When you select the print you need to keep a few things in your mind. You select, dot print, calligraphy print, zigzag print, and natural print. These are the best choice for parties.
6) border of the sarees
Along with print, border also plays an indispensable to enhance the look of the latest trending party wear sarees. I deem that Scallop, ruffles, embroidered velvet, pearl border, and kudan work sarees border are good for parties sarees.
7) works on sarees
There are numerous sarees works are popular for different occasions, but few of the works are looking fantastic for parties events. latest embroidery work sarees, bhart work, zari work, and stonework are the favorite list of numerous fashion designer experts.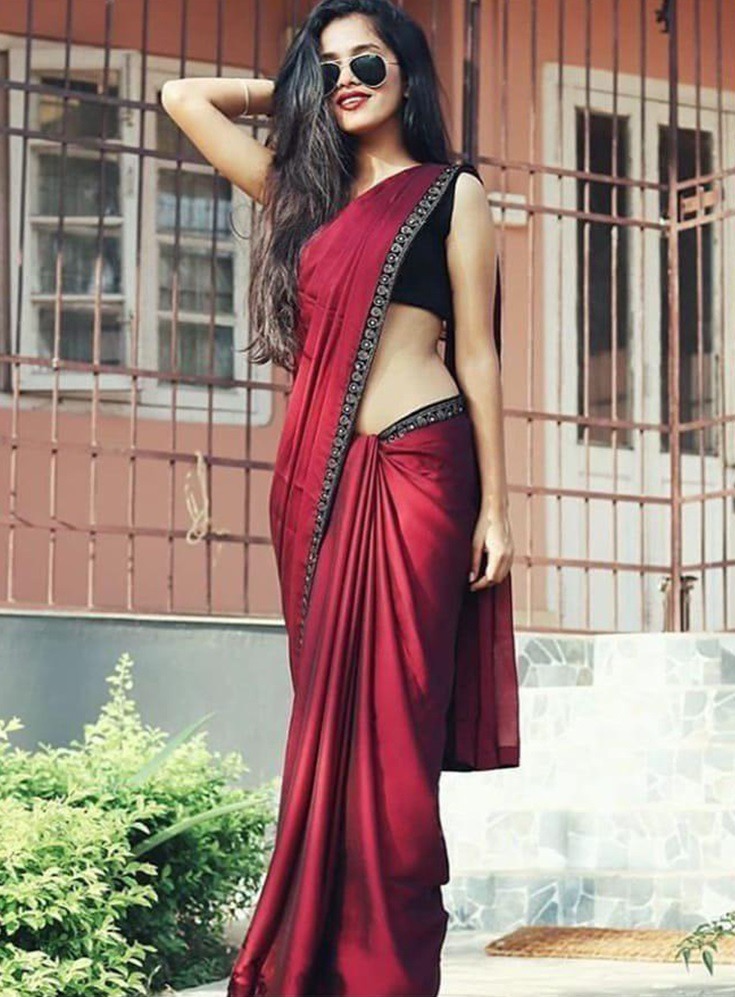 8) match the accessary
fashion accessories also enhance the looking style. There are multiple additional things are girls use such as a purse, Bracelets, rings, watch, Earrings, Necklace, and sandals. Whenever you choose any color of sarees for a special occasion, you need to understand all stuff which are matching with sarees color, otherwise, it is very hard after purchasing best party wear sarees.
9) importance of time
Time plays a crucial role in looking style. especially, at evening time party, the bright color looks fantastic for party looks. However, during daylight hours, dark colors are matching fabulously. it is a small suggestion of mine, but it is up to you someone like to wear dark color at night because it is suitable for them.
10) style of wearing
There are multiple ways to wear sarees. On youtube, you will get various videos about ways of wearing sarees. I believe that some common types of sarees look are looking fabulous such as, nack drape, belt style, mermaid style, pant, butterfly, and lehenga style sarees look are gorgeous for parties.
To conclude, we provide such great guidance based on our expertise, but in a few cases, it does not work well. you need to try different types of sarees depending on looks, color, and size, after that, people drop their opinion about your looks. But mention all factors are helping you to select the best party wear sarees for party looks.
Best Brand Product for : KD DESIGNER PARTY WEAR SAREE WITH GLAMOROUS LOOK DESIGNER SAREES