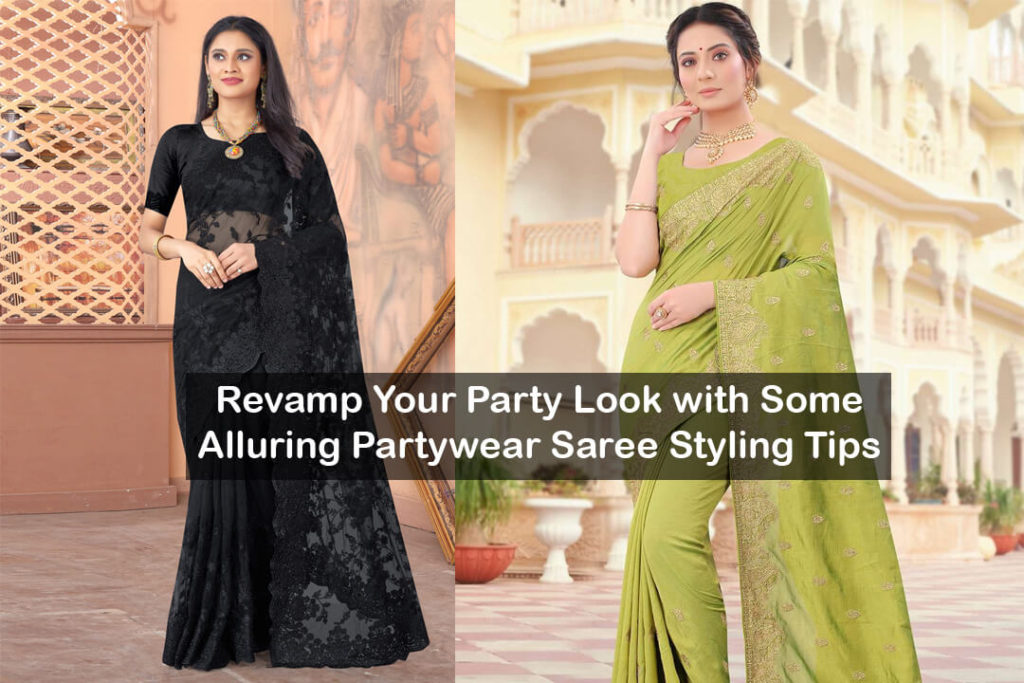 Saree has been the evergreen ensemble of Indian ladies for centuries. Earlier, sarees were only worn during wedding season and festive season, but nowadays, sarees are quickly becoming one of the top party attire and they are now widely worn in party season. Nothing is more glitzy, glamorous and fashionable than this incredibly lovely Indian ensemble. As a result, nearly all fashion influencers, Bollywood stars, and ordinary ladies are opting to wear fashionable and elegant sarees to party events.
A huge variety of partywear sarees are available for party lovers and each of them are classy, bold and alluring. The most stunning and contemporary women's partywear saree combines western sophistication with the ornate magnificence of traditional Indian style. Although partywear sarees are alluring, you need to style them in correct ways in order to be more attractive and bold at any party event. This blog will tell you about some excellent fashion tips to style partywear sarees. Scroll down to check out all the styling tips and experiment new styles with your partywear sarees.
Best Fashion Tips to Style Partywear Sarees Every Modern Lady Should Follow
Due to their distinctive style and glitz, fashionable party wear sarees are the most preferable party outfit choice among all modern and fashionable women. An ultra-stylish partywear saree can also make you appear more exquisite and stylish at any party. So, if you are a saree lover and want a bold and fashionable appearance for slaying at a party like a diva, then partywear sarees are the ideal choice for you.
Since partywear sarees are extremely versatile, they may be worn in so many different ways and you can also style them in numerous attractive ways to get a captivating and super stylish look. Are you wondering how to style your partywear saree in a stunning way to revamp your party look in winter, then you have opened the correct fashion blog. We have given below some of the best styling tips to accessorize your partywear sarees that will help all fashionistas to slay like a diva at a party.
1. Belt Up Your Partywear Saree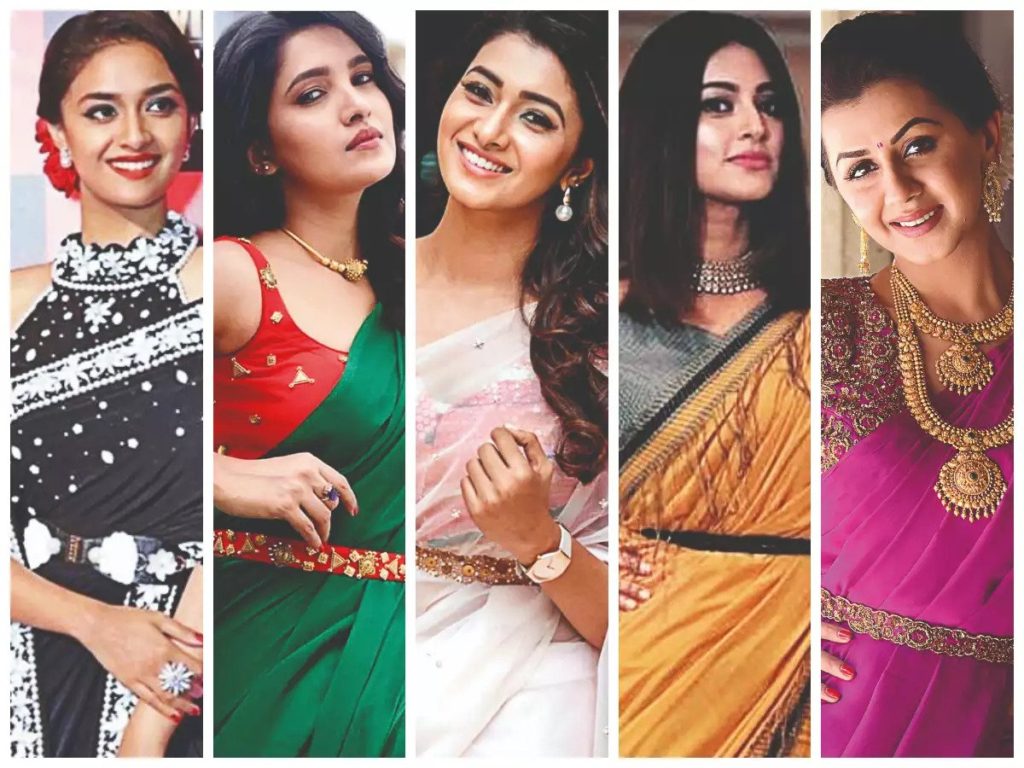 This one is the best fashion tip to style partywear saree at a cocktail party, Christmas party or New Year's party. This partywear saree styling tip has become immensely famous among all modern ladies, especially Bollywood stars. You may spruce up your party look by adding a simple metallic belt in a solid shade or an embellished and eye-catching Kamar bandh. The last touch is an off-shoulder blouse worn with your partywear saree. You will be a super stylish diva by following this styling tip.
2. Replace Your Blouse with A Crop Top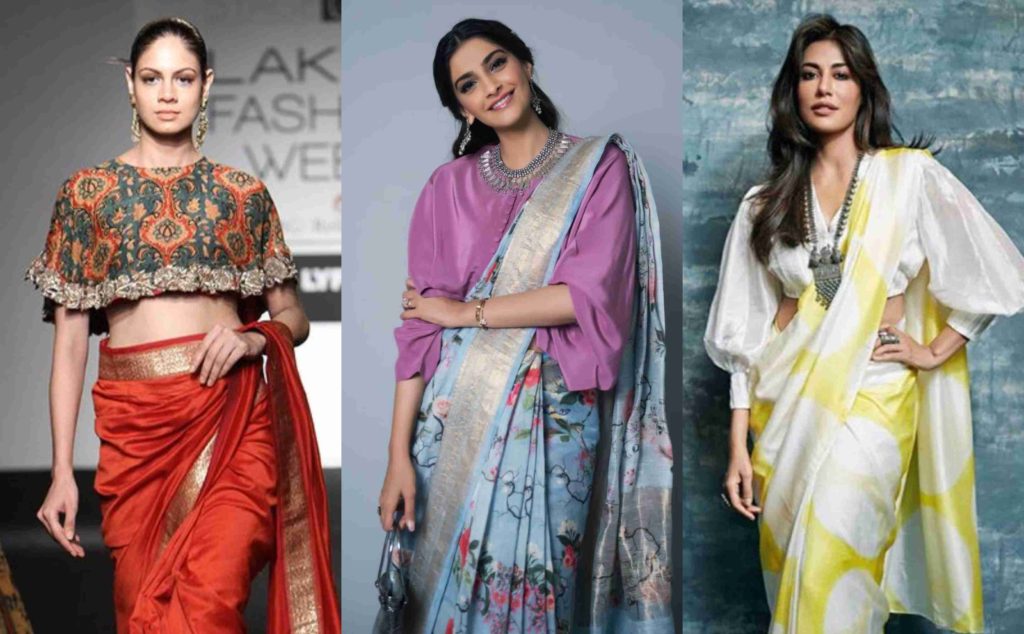 Although blouses are the most essential outfits to wear with sarees, you can replace it with an ultra-stylish crop top for styling your partywear saree in the most unique way. This unique partywear saree styling tip helps you be the most seductive and bold diva at a club party, beach party, cocktail party and any other parties.
Different styles of crop tops are available that can beautifully match your stylish partywear saree and give you a sexy look. You may see that many well-known Bollywood celebs are donning in some award shows, and other events with the crop top and saree combination. If you wish to set yourself apart from every lady and want the head-turning look, then you must follow this styling method to wear partywear sarees.
3. Wear Your Saree in the Neck Drape Style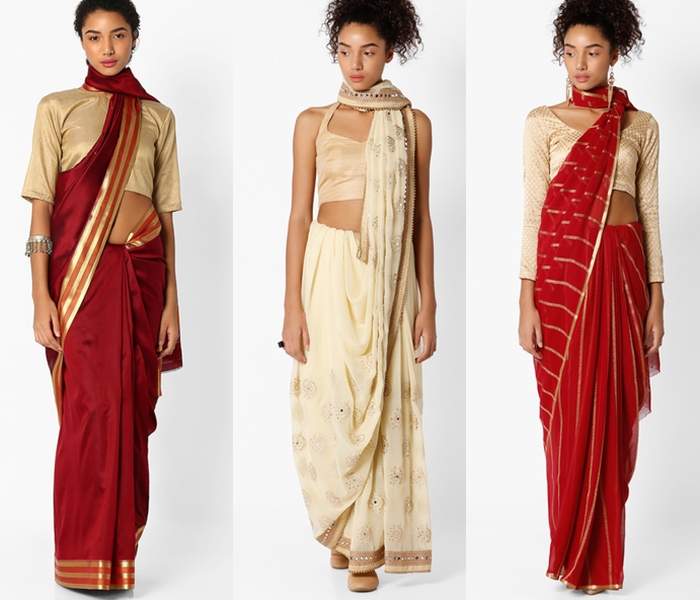 Another notable and unique way to style partywear sarees is this one. In this style, you must drape the pallu of your stylish partywear saree across your neck rather than leaving it casually on your shoulder. This excellent partywear saree styling method will surely make you the head-turning diva. You can experiment with this style to get an ultra-modern and distinct party look. Try this styling method to wear partywear sarees if you are going to attend a cocktail party, or New Year's party. This style can also safeguard your throat and neck from cold during the winter party season since the pallu is draped over your neck perfectly in this style.
4. Wear A Formal Pant or Jeans instead of Petticoat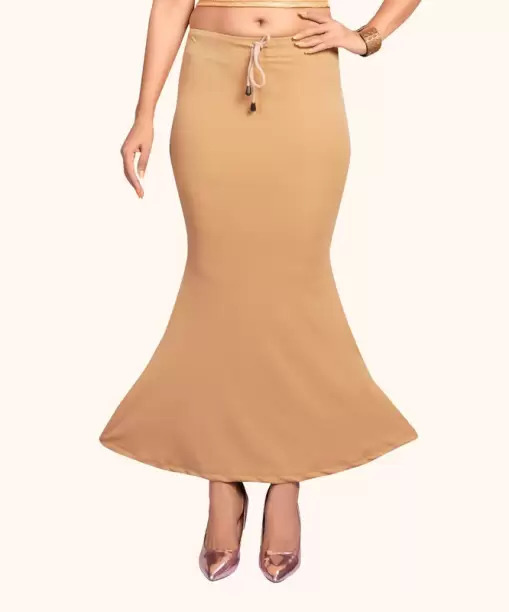 This trending styling method to wear partywear saree is ideal for a cocktail party or even a formal office party. For slaying your party look in this superb method, you have to wear formal straight pants or a pair of jeans underneath your saree instead of the typical petticoat. This party wear sarees fashion tip will surely help you look so classy and ultra-modern.
If you are going to a cocktail party, you can wear stylish jeans under your fashionable partywear saree. On the other hand, if you are going to attend your office party, then go for a formal pants instead of jeans to look formal and classy with your partywear sarees. This styling tip will also help you be the most distinct diva at a party. Therefore, it has become quite popular nowadays among all ladies.
5. Wear Stylish Accessories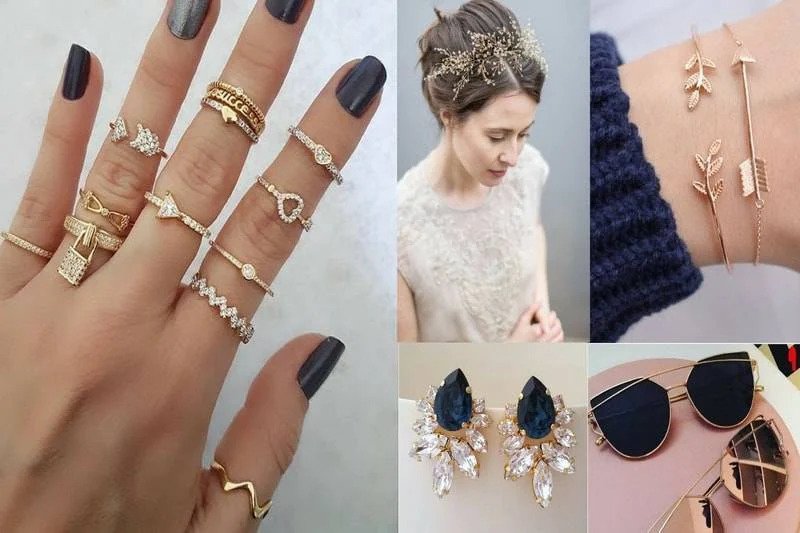 Stylish partywear sarees should be accessorised with stylish and statement accessories. You can style your bold and fancy party wear saree with a stylish neckpiece, bracelet, statement earrings, diamond pendant, etc. If you want something exceptional, you may wear a diamond stump's nose ring with your partywear saree.
Wearing stylish and appropriate accessories with your partywear saree is the most crucial fashion tip to style partywear sarees since it will spruce up your look and make you look more fascinating. If you are going to a cocktail party, engagement ceremony or even a reception party, you have to wear some stylish and gorgeous jewelleries with your glamorous partywear saree.
6. Wear Appropriate Footwear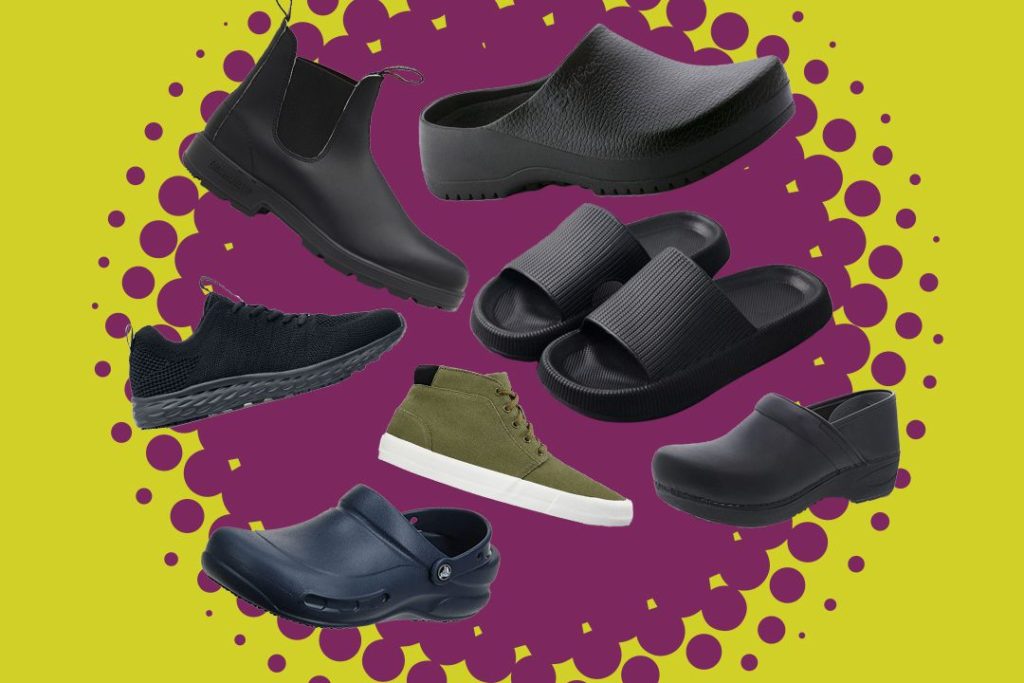 This one is another essential method to style partywear saree that you should not ignore. To achieve the perfect diva look for any kind of party, you have to wear the most appropriate and stylish footwear with your chic partywear saree. If you wish to be the mesmerizing and sensual diva, then you can opt for the super stylish high heels.
However, if you want a classy look and are not comfortable with high heels, then you should wear classy flat shoes. You can even wear classy boots with your partywear sarees if you want a distinct and formal look for an office party.
Wrapping Up
These are some of the greatest fashion tips to style partywear saree. Now, purchase a voguish and alluring partywear saree from the best store and style it in a unique way to spruce up your party look in any season.
Have you found the perfect and super stylish partywear saree for yourself? If not, then get in touch with Surati Fabric, the most renowned partywear saree supplier and online retailer in Surat. We have a huge stock of ultra-stylish and modern partywear sarees that will go well with all types of parties in any season. We have partywear sarees for ladies of all ages and body shapes, so anyone can get their most suitable partywear saree easily from us. Check out Suarti Fabric's best collection of partywear sarees and pick the most alluring one for slaying like a diva at a party event.