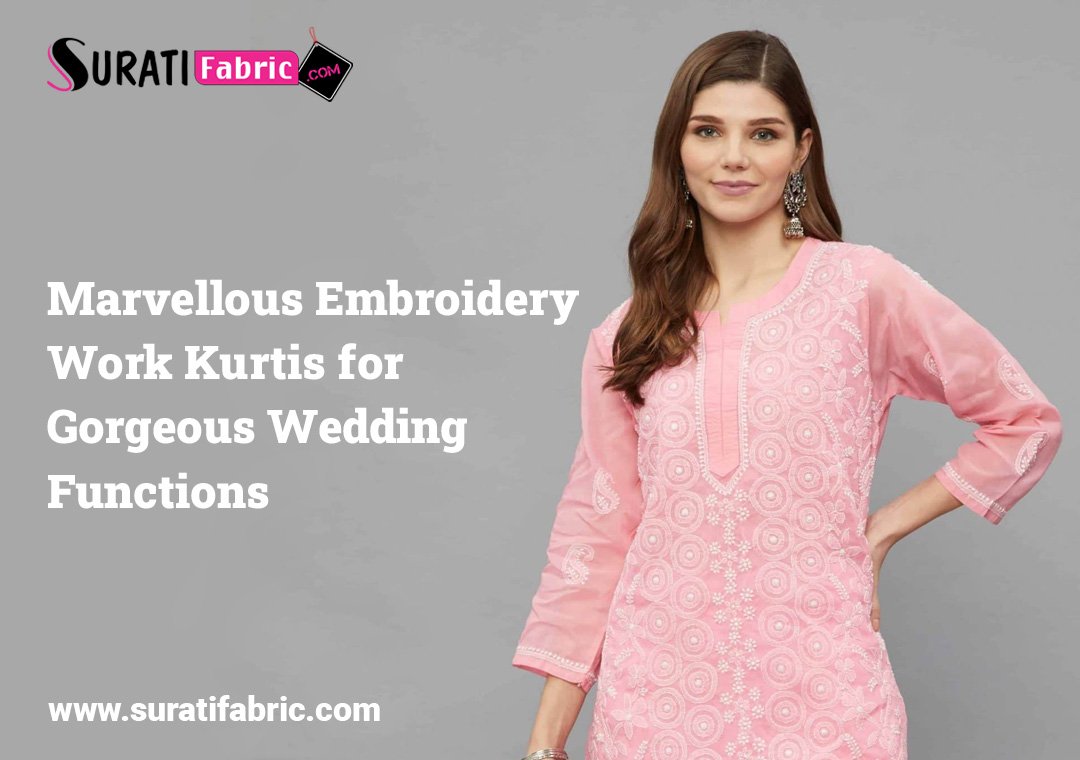 Embroidery work Kurtis are one of the most well-liked ethnic apparel because of their regal and aristocratic appearance. Gorgeous embroidery work Kurtis are a great option for every event and you may dress them up with any type of bottom wear. Embroidery work Kurtis are available in numerous attractive designs, embellishments and patterns. Each embroidered Kurti is beautiful and glamorous in its own way. All of them are the product of a distinct culture made in different regions of the nation.
Embroidery work Kurtis are the most luxurious ethnic apparel that will make you look regal and aristocratic. If you want to wear some traditional yet classy and stylish ethnic apparel at a wedding function, then embroidery work Kurtis are suitable for you. You may glam up your ethnic appearance with glorious embroidered work Kurtis, which come in a variety of styles ranging from casual everyday wear Kurtis to the most glorious and regal Kurtis. Read this full blog to explore different varieties of magnificent embroidery work Kurtis and select the appropriate one to wear at wedding functions.
Dazzle the Wedding Functions with Some Ravishing Embroidery Work Kurtis
Indian weddings are extremely gorgeous and numerous wedding functions are celebrated in India before the final wedding day such as Mehendi, Sangeet, Haldi and many more. For these gorgeous wedding events, women always want to dress in some most glamorous and fashionable garments. Embroidery work Kurtis wholesalers surat is the perfect option for various wedding events. Women of various ages can wear this traditional attire because it is adaptable. Different styles of beautiful embroidery work Kurtis assist you in standing out from the crowd at a wedding function. 
If you are intending to wear the most regal and classic ethnic attire to the upcoming wedding function, here is something that can help you to get the most glamorous appearance. Have a look at some most alluring and trendy embroidery work Kurtis that can make you look elegant.
1. Mirror Embroidery Work Kurti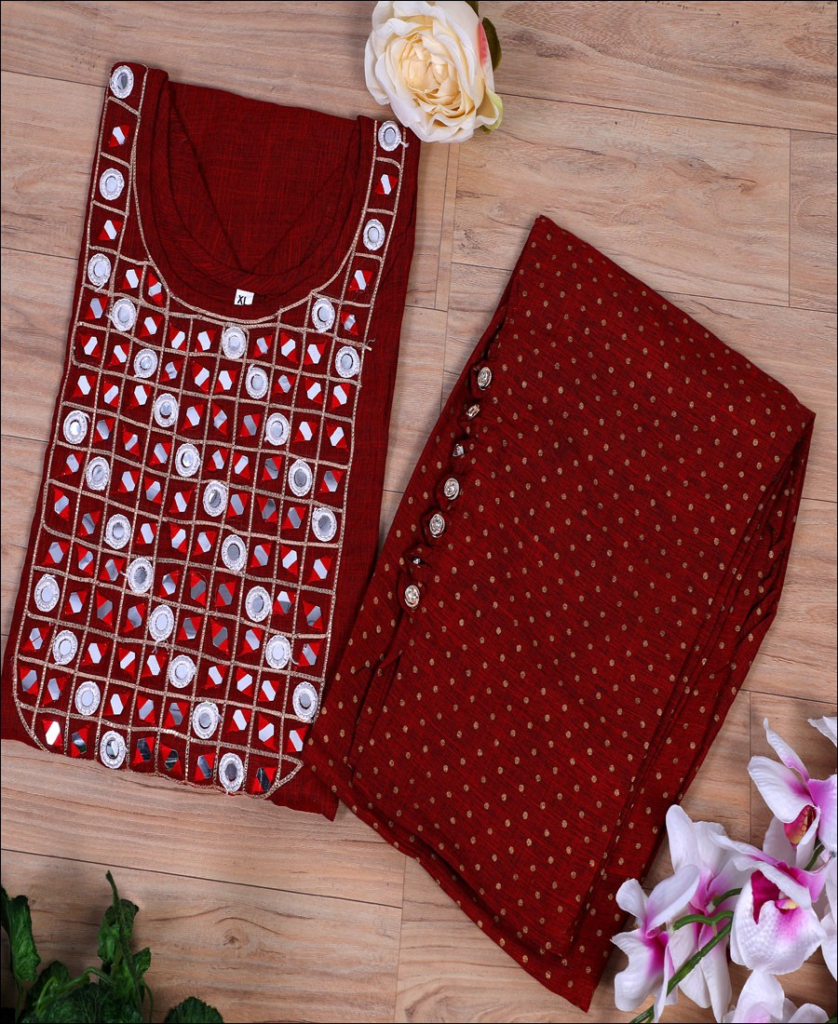 This is one of the most famous and glorious embroidery work Kurtis that are appropriate for evening wedding events. This embroidery work Kurti is designed with tiny and shiny mirrors that are stitched on various fabrics. The beautiful mirror works add an extra charm and shine to this Kurti because the mirror is a reflecting object. These shiny embroidery work Kurtis originated from Gujarat and Rajasthan.
You will get a ravishing look by wearing this alluring embroidery work Kurtis. They are also available in Bandhani or Leheriya fabrics that may give you a classy and attractive appearance.
2. Chikankari Embroidery Work Kurtis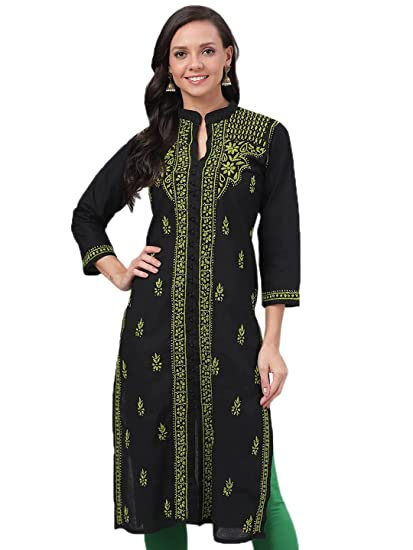 A traditional type of needlework that originated in Lucknow is chikankari work. This traditional and elegant embroidery work Kurti was created during the Mughal era and it is the most famous ensemble of Lucknow. White color has been skillfully applied on fabrics to create this beautiful embroidery work Kurti. These days, Chikankari art is produced in a variety of colors and often includes additional embellishments like sequins and mirrors.
Chikankari embroidery Kurti is ideal to wear in both morning and evening wedding functions like Mehendi, sangeet, reception party and so on. You will look elegant and classy by wearing this.
3. Zardosi Embroidery Work Kurti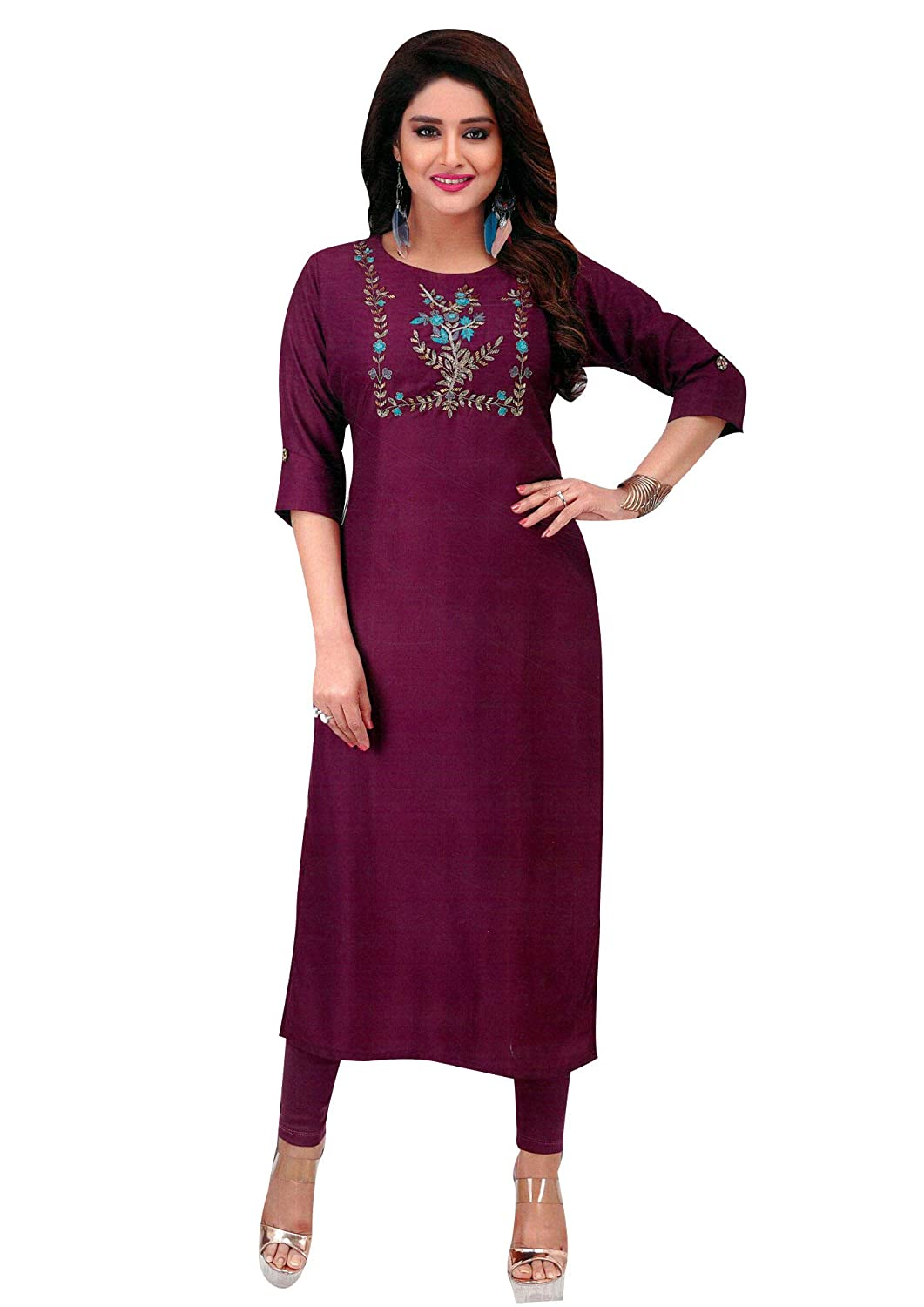 Zardosi embroidery Kurti is one of the most well-liked and popular embroidery work Kurtis. These Kurtis are made of gold and silver zari works. It is the most exquisite and glorious embroidery work Kurti you have ever seen. This gorgeous and royal embroidery work Kurti will definitely draw the attention of everyone if you wear it at the gorgeous sangeet night, reception party and any other wedding event.
A Kurti made of Zardosi embroidery will make you look royal and classy. You can find a wide variety of zardosi embroidery work Kurtis in different styles, and different attractive designs on the neck and other parts of the Kurti. If you want to get a regal and glorious appearance in a wedding event, then you can opt for this Kurti.
4. Katha Work Embroidery Kurti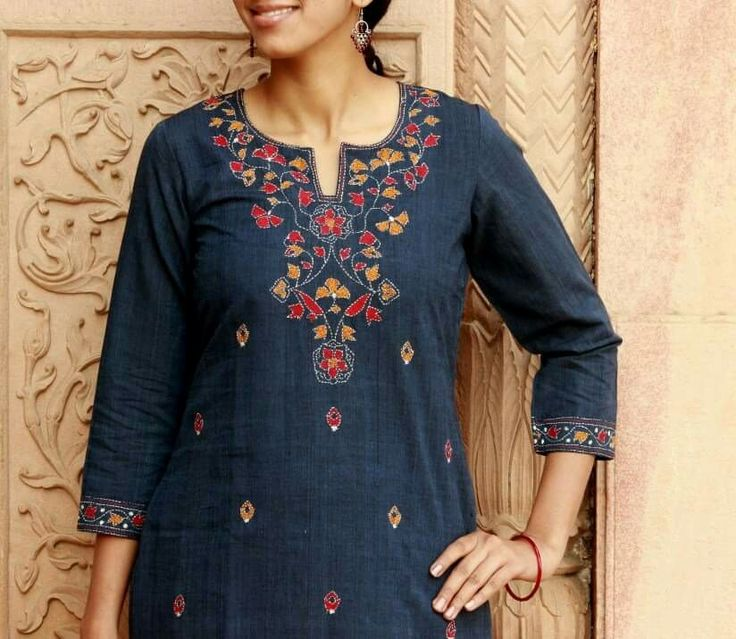 Katha work, which has its roots in Bengal, is a beautiful and colorful hand embroidery style used in India to make Kurtis and other outfits. These colorful embroidery work Kurtis are available in different motifs such as floral, geometric, animal and many more.
You can get the most unique and elegant look if you put on this one for any type of wedding function with some traditional jewelry. This elegant embroidery work Kurti can show up your ethnic beauty perfectly and offer you a full desi look.
5. Gota Patti Embroidery Work Kurti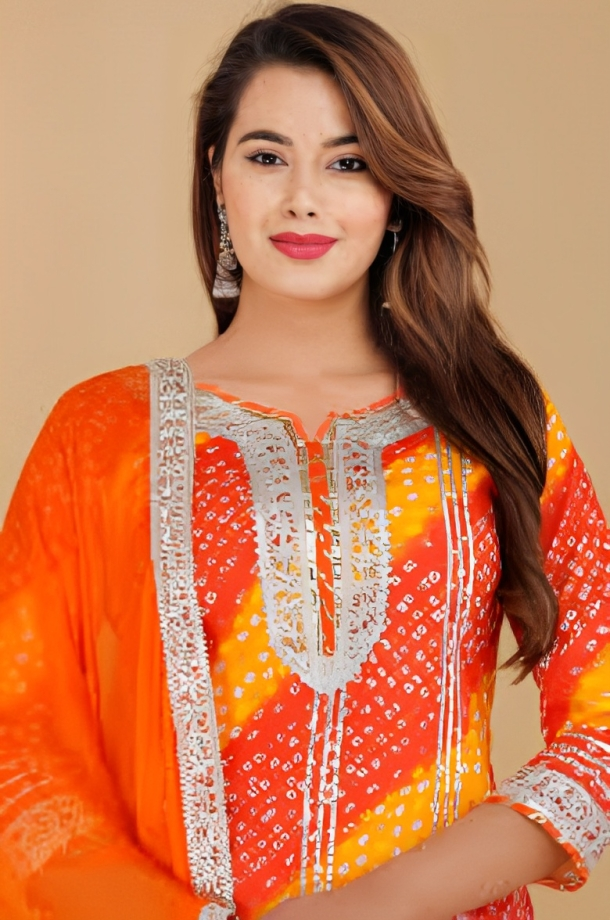 The intricate motifs and perfect blend of ethnic and Indo-Western style of this Kurti make them the most adorable embroidery work Kurtis and they are well-known all over India. The applique technique is used to create Gotta Patti embroidery work on ribbon strips in numerous shades like silver, gold, or other shades.
You must try this exquisite embroidery work Kurti if you want to make an impression at any wedding event. You will surely get a magnificent and distinct look by wearing this attractive embroidery work Kurti.
6. Kutch Embroidery Work Kurti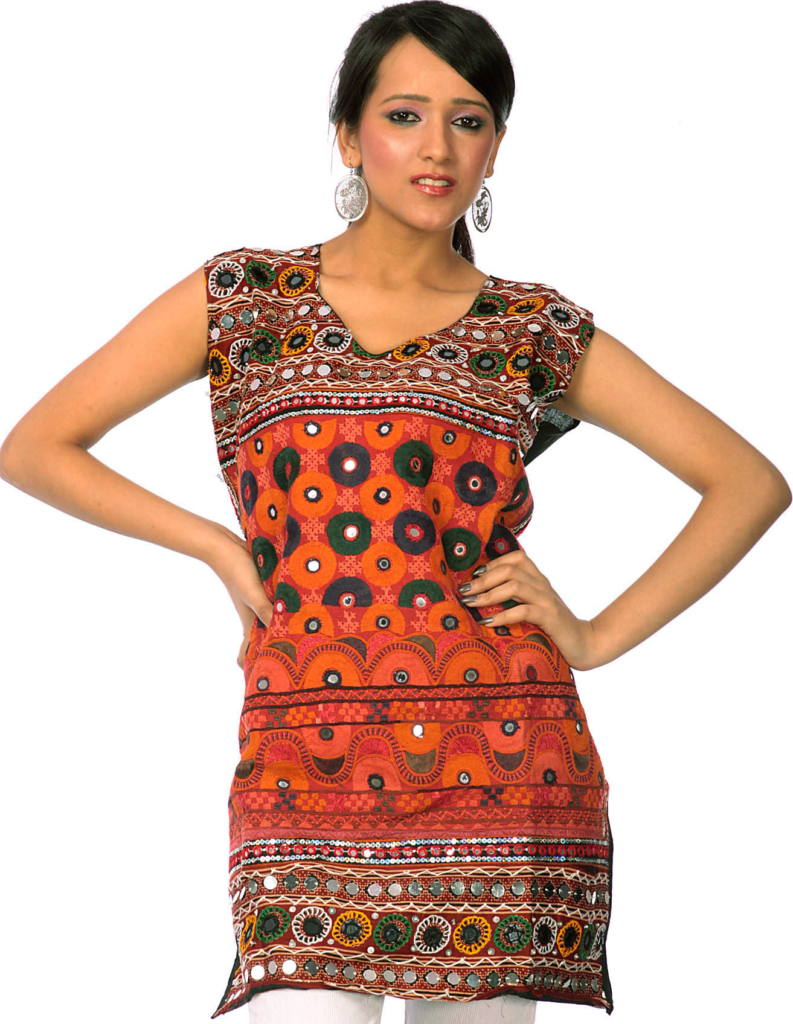 Gujarat is the place where this beautiful embroidery work Kurti first originated. Kutch embroidery work Kurti has gained immense popularity all over the world in recent years due to the bright and brilliant shades utilized in this type of embroidery. This bright and alluring embroidery work Kurti is also designed with mirrors, patches and multicolors.
As Indian wedding functions are colorful and bright, this colorful embroidery work Kurti is the ideal option for wedding events. You will get a stunning appearance by wearing this embroidery Kurti.
Most Beautiful Embroidery Work Kurtis for Upcoming Wedding Functions to Pick from Surati Fabric
The season of weddings has already come. As Indian weddings are bright, gorgeous and colorful, these above-mentioned beautiful and stunning embroidery work Kurtis go well with all types of wedding events. The newest fashion trends in India are Embroidery Work Kurtis which go well with various wedding events and make the wearer look glorious and attractive. 
Need the best embroidery work Kurti for an upcoming wedding event? Visit Surati Fabric now where you can find the latest and most luxurious assortment of embroidery work Kurtis. We are a well-known supplier of embroidery work Kurtis in Surat and we provide our customers with a wide selection of the highest-quality embroidery work Kurtis in many gorgeous hues and attractive designs so that you can locate what you need with ease.