As a modern bride, finding the perfect engagement lehenga is a top priority. The engagement ceremony holds immense significance in Indian weddings, marking the beginning of the beautiful journey towards marriage. The engagement lehenga, with its exquisite design and intricate craftsmanship, is the centerpiece of this auspicious occasion. It is a symbol of elegance, grace, and tradition, and it is important for every bride to find the lehenga that complements her personality and style.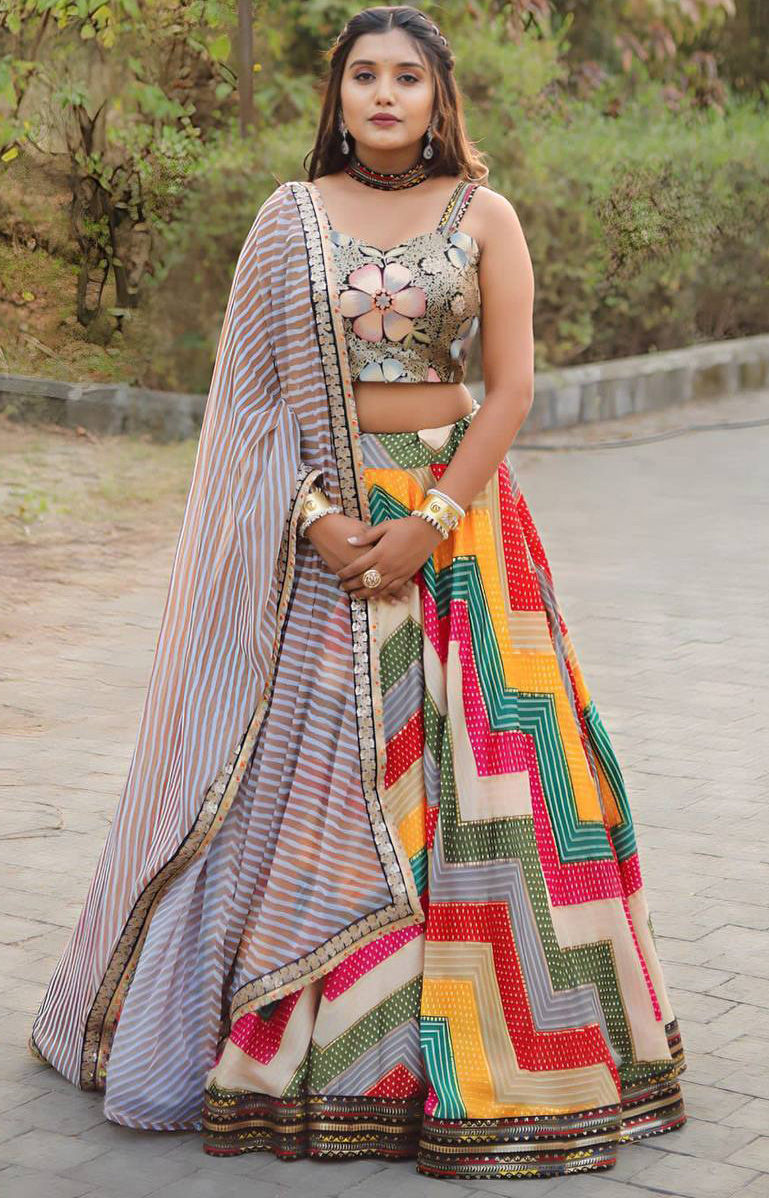 The engagement lehenga is not just another outfit; it is a reflection of the bride's individuality and her unique sense of style. It sets the tone for the entire wedding and creates lasting memories for both the bride and the groom. The engagement ceremony is a day when all eyes are on the bride, and she deserves to feel like a queen in her special attire. Therefore, understanding the importance of the engagement lehenga and its significance in the overall wedding planning process is crucial.
Different Styles and Designs of Engagement Lehengas
Engagement lehengas come in a myriad of styles and designs, catering to the diverse tastes of modern brides. From traditional to contemporary, there is a perfect engagement lehenga for bride. Some popular styles include:
Traditional Red Lehengas: Red is the color traditionally associated with Indian brides, symbolizing love and passion. A red engagement lehenga adorned with intricate embroidery and embellishments is a classic choice for brides who want to embrace their cultural heritage.
Pastel Lehengas: Pastel shades like blush pink, mint green, and baby blue have gained immense popularity in recent years. These soft hues exude femininity and elegance, making them an ideal choice for brides who want a more modern and subtle look.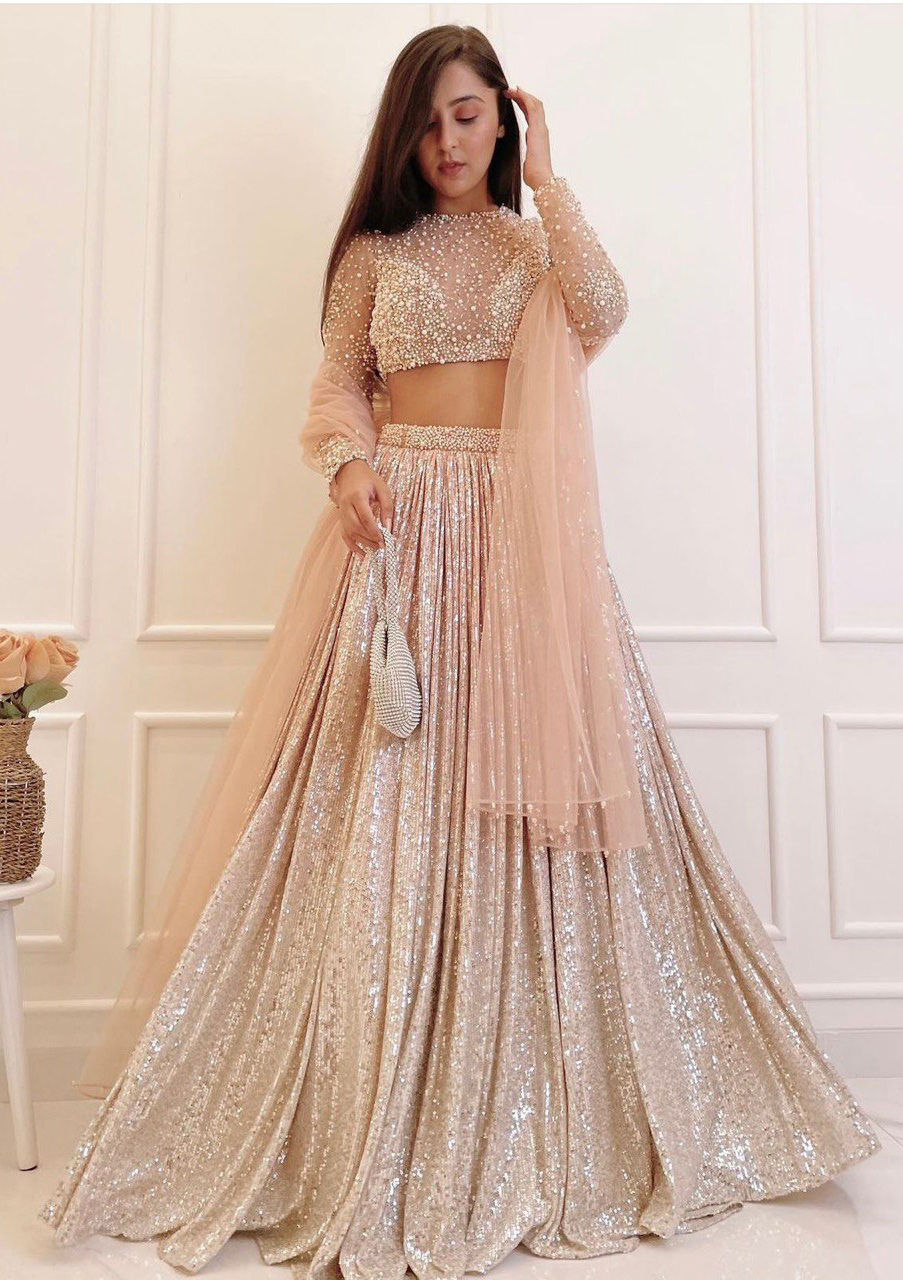 Floral Lehengas: Floral patterns are a timeless trend in Indian fashion. A floral engagement lehenga, whether embroidered or printed, adds a touch of freshness and vibrancy to the bride's ensemble. It is perfect for outdoor or daytime ceremonies.
Fusion Lehengas: For brides who want to experiment with different styles, fusion lehengas offer a unique blend of traditional and contemporary elements. These lehengas combine the elegance of traditional Indian silhouettes with modern cuts, fabrics, and embellishments.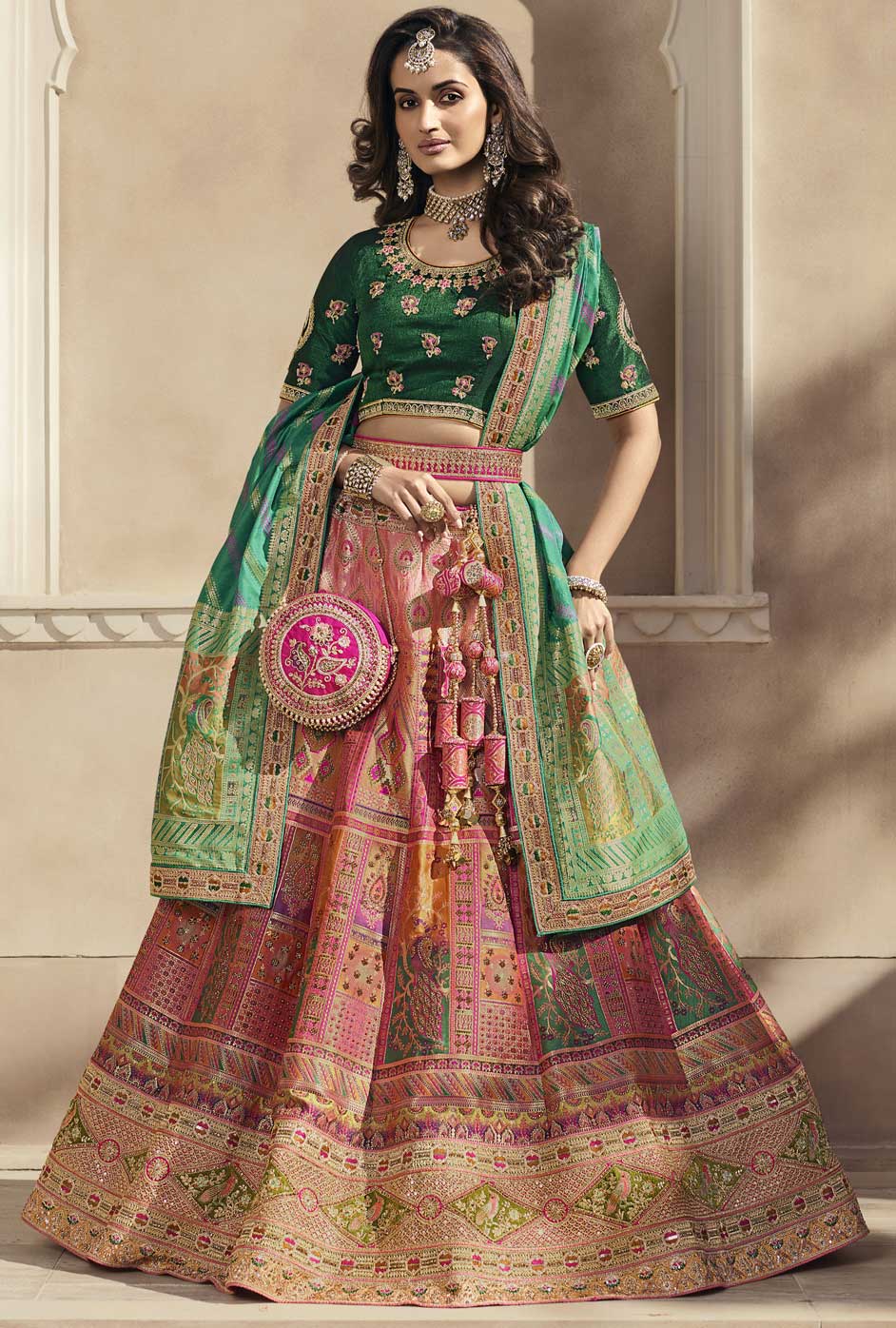 Tips for Finding the Perfect Designer Engagement Lehenga
Finding the perfect designer engagement lehenga can be an overwhelming task, but with the right tips and guidance, it can also be an exciting and enjoyable experience. Here are some tips to help you find your dream engagement lehenga:
Research and Inspiration: Before you start shopping, spend some time researching and gathering inspiration. Look for bridal magazines, fashion blogs, and social media platforms to get an idea of the latest trends and styles. Save pictures of lehengas that catch your eye and make a note of the designers you like.
Set a Budget: It is important to set a budget for your engagement lehenga before you start shopping. Designer lehengas can range from affordable to extravagant, so having a budget in mind will help narrow down your options and avoid any financial surprises.
Visit Designer Boutiques: To find a designer engagement lehenga that matches your vision, visit reputable designer boutiques. Schedule appointments in advance to ensure personalized attention from the designers. Try on different styles and silhouettes to see what suits you best.
Customization Options: Many designers offer customization options, allowing you to create a lehenga that is truly unique to your taste. Discuss your preferences, such as color, fabric, embroidery, and embellishments, with the designer. They can guide you through the process and create a one-of-a-kind masterpiece for your engagement.
Comfort and Fit: While aesthetics are important, it is equally crucial to prioritize comfort and fit. The engagement lehenga should not only look stunning but also allow you to move freely and enjoy your special day. Pay attention to the weight, length, and structure of the lehenga to ensure a comfortable fit.
Where to Shop for Engagement Lehengas
When it comes to shopping for engagement lehengas, there are numerous options available. Here are some popular choices to consider:
Indian Wedding Saree: Indian Wedding Saree is a reputable online store that specializes in designer engagement lehengas. They offer a wide range of styles, colors, and designs to suit every bride's preferences. With their extensive selection and excellent customer service, they are a reliable choice for finding the perfect engagement lehenga.
Designer Boutiques: Visit local designer boutiques in your area to explore their collection of engagement lehengas. These boutiques often have exclusive designs and provide personalized services to ensure a seamless shopping experience.
Bridal Exhibitions: Bridal exhibitions are a treasure trove of bridal fashion. These events bring together renowned designers and showcase their latest collections. Attend bridal exhibitions in your city to get a firsthand look at the latest trends and connect with designers directly.
Custom Orders: If you have a specific design in mind or want a completely customized engagement lehenga, consider approaching a designer for a custom order. They will work closely with you to bring your vision to life and create a lehenga that is tailored to your exact specifications.
Indian Wedding Saree – Best Online Store for Designer Engagement Lehenga
Indian Wedding Saree is an excellent choice for finding the perfect designer engagement lehenga. With their vast collection of styles, colors, and designs, they cater to the diverse preferences of modern brides. Their user-friendly website makes it easy to browse through their collection and find the ideal lehenga that matches your vision. They offer customization options, ensuring that your engagement lehenga is a unique reflection of your style. With their attention to detail and commitment to customer satisfaction, Indian Wedding Saree is a top online store for all your designer engagement lehenga needs.
Conclusion
Finding the dream engagement lehenga is an important step in the wedding planning process for any modern bride. The engagement lehenga holds immense significance and sets the tone for the entire wedding. By understanding the importance of the engagement lehenga, exploring different styles and designs, following helpful tips, and choosing the right shopping destinations, every bride can find her perfect designer engagement lehenga. So, embrace this exciting journey with enthusiasm, and let your engagement lehenga make you feel like the queen you deserve to be on your special day.