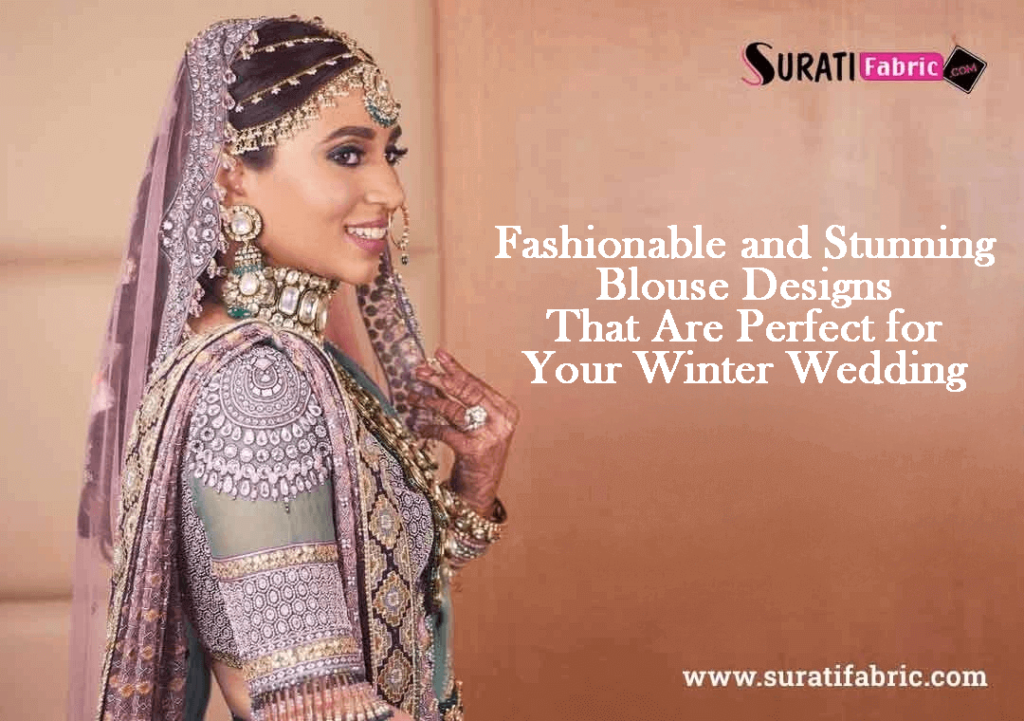 The winter season has arrived already, and the wedding season has also come with the winter. While winter may seem ordinary to many people, we are well aware that many brides are getting married in this season and are looking for the stunning bridal attire for getting the perfect bridal look.
Latest Blouse Designs for Winter Wedding That Will Make You Look More Special
However, a bride's adorable look might be affected by the cold. To save the brides from chilling weather, we have come up with some trendy and glamorous blouse designs for winter weddings that can keep the brides warm and gorgeous on their special day. These gorgeous blouse designs can be the ideal fit for your wedding day if you are also getting married this winter.
1. Statement Full Sleeve Blouse
Almost every Indian lady adores statement full sleeve blouses a lot and wishes to wear this stylish blouse manufacturer at least once since they are so elegant and fashionable. This is a perfect blouse Designs for a winter wedding as its full sleeves can save you from shivering cold as well as making you look fascinating. You can be a fashionable and stunning bride by wearing this elegant sarees blouse styling ideas to try with different sarees.  
2. Classy Jacket Blouse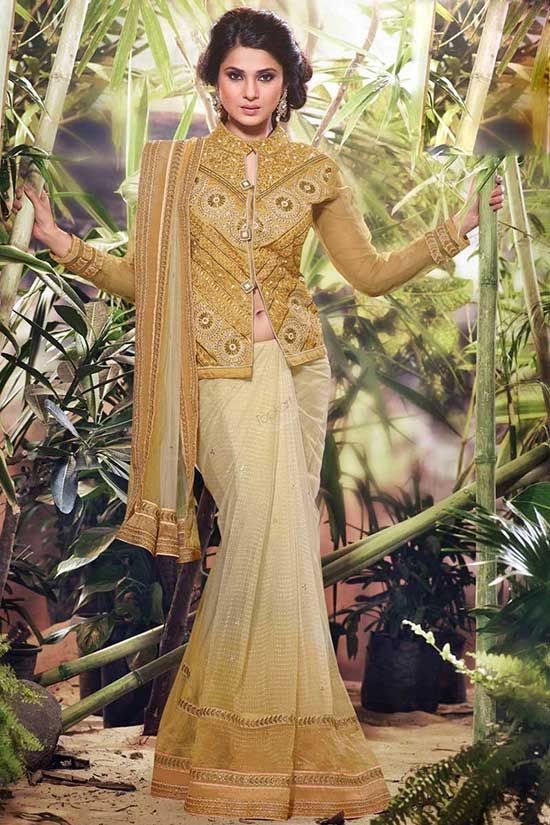 The best way to look classy and stay warm on your winter wedding day is to wear a full sleeve jacket blouse Designs. This fashionable blouse design has become the latest trend and it is adorned by many modern brides who want to get a contemporary bridal look. You can get these fancy blouses Designs with intricate needlework that are made of lace, silk, or even velvet. 
By choosing a cropped or long jacket, you can experiment with the blouse's hemline. This stylish blouse design is absolutely ideal for those brides who are getting hitched in winter as its jacket style, high collar and full sleeves can save you from cold and maintain your style statement. If you want to be a contemporary bride and also save yourself from cold, this voguish blouse design are ideal for you.
3. Boat Neck Blouse Design
A fashionable boat neck blouse design is the perfect blend of fashion and elegance. This classy and chic blouse design perfectly accentuates your charming and feminine appearance when paired with a fashionable, contemporary, and gorgeous bridal saree or lehenga.
Due to its unique boat neck pattern, and eye-catching embellishments like sequins, thread work, stone work and thread work, this contemporary blouse design is a well-liked blouse design among fashionable brides. This popular blouse design can help you stay warm and fashionable on your wedding day. Wearing a classic boat neck blouse with your gorgeous bridal lehenga or saree and gorgeous jewelry sparkling and refined appearance.
4. Velvet Blouse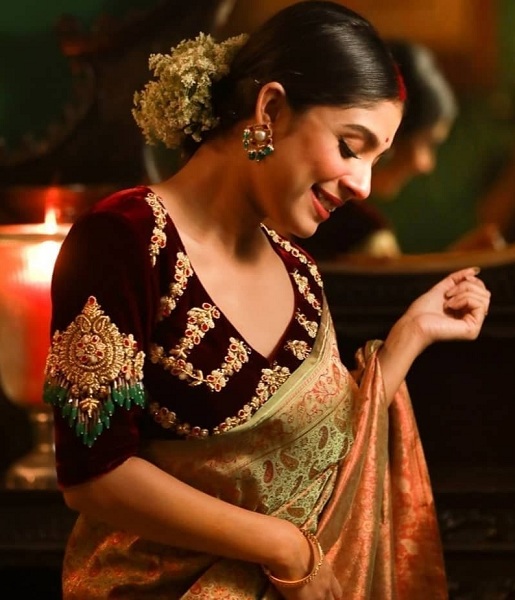 Velvet blouse is undoubtedly the ideal blouse design for winter wedding as its thick and regal fabric can make you completely warm as well as make you a royal and glamorous bride. This regal blouse design has been famous for past decades and a huge number of royal ladies as well as ordinary ladies choose to wear it on their special day.
This glamorous and aristocratic blouse designs can make your bridal look more special. You can wear a designer velvet blouse to get a glorious bridal look or opt for a simple yet elegant velvet blouse to get a classy and sober look. The best part about velvet blouse is that it can be worn with saree or lehenga, whatever you want. So, be the royal bride and shine like a queen by wearing this regal blouse for winter wedding.
5. Plunging Full Sleeve Blouse Design
If you want a daring and bold bridal look instead of an elegant and traditional look, then go for the plunging full sleeve blouse.
Due to the full sleeve, you will be warm during your wedding night as well as look hot and bold on your special day by wearing this modish and bold blouse design. If you do not want the typical traditional bridal look and want to be the most unique and alluring bride to stun your guests, then you should opt for this bold blouse design.
6. Heavily Embellished Blouse Design
Are you arching for the most gorgeous blouse design to get the mesmerizing look as well as stay completely warm on your wedding day in winter? Then a heavily embellished blouse design is the ideal bridal blouse for you. This stunning blouse design can give you an impeccable bridal look and enhance your entire bridal look by adding an extra charm.
For your forthcoming winter wedding, you need to choose an embellished full-sleeved blouse to match with your gorgeous bridal outfit if you want a full traditional and striking appearance.
Pick The Most Appropriate Blouse Design for Your Wedding Day from Surati Fabric
To improve the overall bridal appearance and get the picture-perfect and striking bridal appearance, it's essential to pick the appropriate sort of blouse design for your wedding day. You can get the mesmerizing blouse design for your wedding day from Surati Fabric. One of the leading blouse wholesaler in Surat is Surati Fabric that is offering striking blouse designs at inexpensive rates. We have the largest selection of blouses with aesthetically pleasing designs.
We provide you with this entire cutting-edge and exclusive assortment of blouses at an affordable price so that you can simply meet your needs. Visit our website now to obtain the most beautiful and stylish blouse design and look stunning on your wedding day.