Although sarees have long been a sign of Indian style, they can be a pain to wear. Wearing a saree can be difficult for the uninitiated, who must learn how to locate the proper drape and control the pleats. The introduction of fashionable pre-stitched sarees, however, has revolutionized the saree industry.
The latest trend in sari fashion is designer pre-stitched sarees, which have dominated the industry. These sarees are pre-stitched so that putting them on is quick and painless. Pre-stitched designer sarees take the bother out of wearing a traditional saree by eliminating the need for draping and pleating. This piece will explain what designer pre-stitched sarees are and how they've changed the saree industry forever.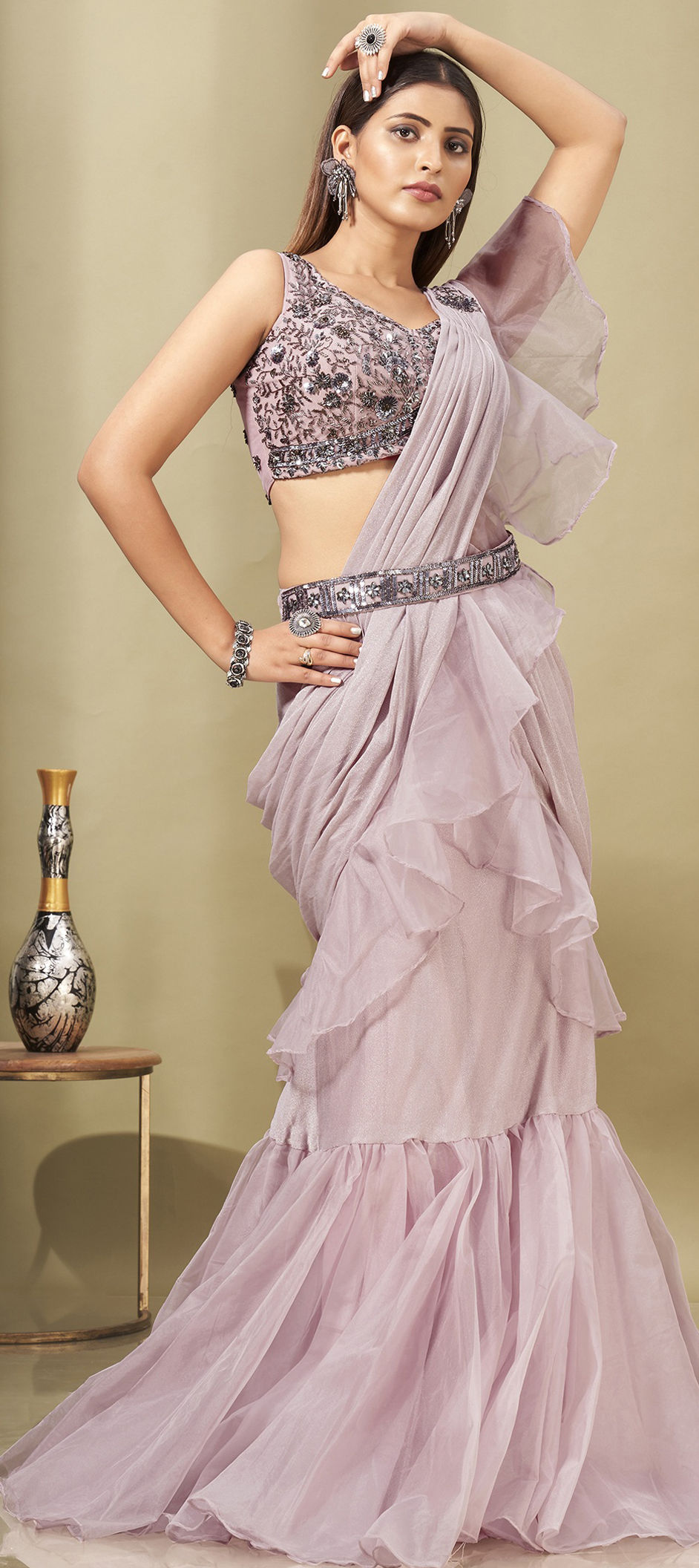 <h3>Designer Pre-Stitched Sarees: A New Wave in Saree Fashion</h3>
Pre-stitched sarees are sarees that have already been tailored to the wearer's body by a designer. Many variations exist, such as the trouser saree, the dhoti saree, and the gown saree. Designer pre-stitched sarees are hassle-free to wear and transport because they are made with the wearer's convenience in mind. You can find the perfect sari for any event thanks to the variety of fabrics, patterns, and cuts available.
The introduction of pre-stitched designer sarees has changed the game for women who don't know how to drape a sari. You can get the ideal drape quickly and easily with designer pre-stitched sarees, without having to worry about pleats or tucks.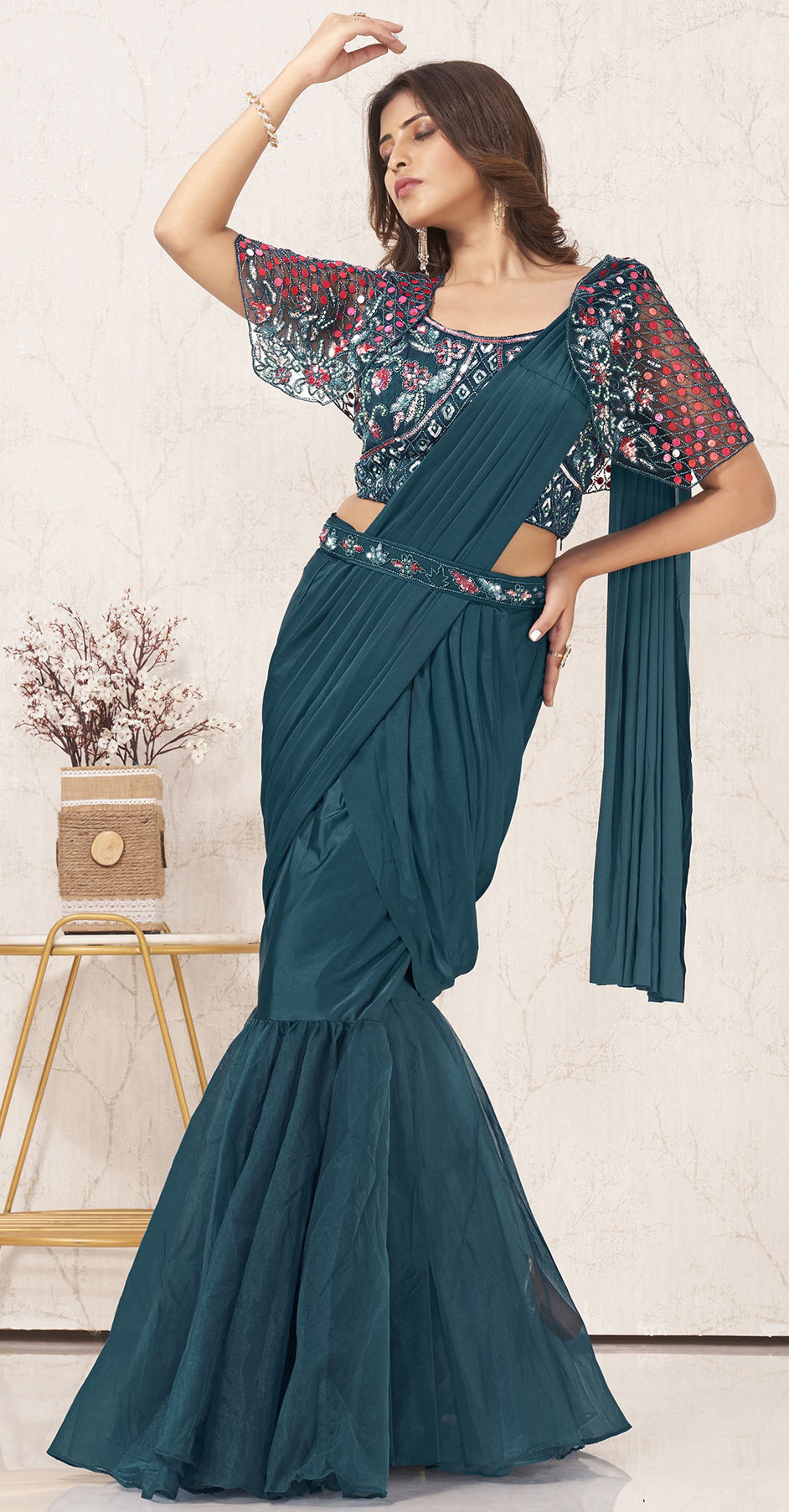 Pre-stitched designer sarees are both fashionable and easy to wear
Designer pre-stitched sarees are both practical and fashionable. The lightweight, airy textiles used in the construction of these sarees make them ideal for all-day use. Designer pre-stitched sarees feature lightweight fabrics in a rainbow of colors and intricate designs.
There is a broad variety of designer pre-stitched sarees to choose from, including the dhoti saree, the gown saree, and the pant saree. These cuts are functional and stylish, making them ideal for a wide range of events.
The Adaptability of Ready-to-Wear Designer Sarees
You can dress up or dress down in a designer pre-stitched sari. These sarees are versatile enough to be worn in either a conventional or modern setting. They are versatile enough to be worn with eye-catching jewelry and either sky-high shoes or comfy flats. Designer pre-stitched sarees are a great investment because they can be worn to a wide variety of occasions, including weddings, celebrations, and formal events.
Designer Pre-Stitched Sarees for Various Occasions
Weddings, parties, and ceremonial events are just some of the many settings that call for a designer pre-stitched saree. Pre-stitched designer sarees with elaborate embellishments are a great choice for a wedding. You can wear a dhoti saree or a pant saree to a gathering if you prefer a more modern look. A designer pre-stitched saree can be the ideal choice for a formal gathering because of its simplicity and elegance.
It can be difficult to locate the ideal designer pre-stitched saree for a special event among the many options available.
Conclusion
In conclusion, designer readymade sarees have changed the sari industry forever by giving women a modern, high-quality, and hassle-free option to wear. Designer pre-stitched sarees come in a wide variety of styles, fabrics, and designs, making them perfect for any gathering from a wedding to a formal dinner. Women of all ages prefer them due to their convenience and the pleasure they provide when worn. Designer pre-stitched sarees make it easy to appreciate the traditional saree's beauty without the hassle of draping or pleating.