Designer Sarees – A saree, the true embodiment of ethnic fashion, not only makes a woman look gorgeous, but also makes her feel regal. When you think about saree, you're thinking of an eclectic classic style that has actually endured the test of time. 
Contemporary craftsmen may weave designer sarees in the latest and most unique styles thanks to current breakthroughs and processes, preserving the age-old cultural history. To appease women enamoured with sarees, new collections of wholesale Designer Saree are released every other day.
A saree is one of those garments that can be worn on practically any occasion, whether it's for everyday use or for a special occasion such as a wedding or party. Even if you spend your days sitting in front of a computer from 9 to 5, or conducting household tasks, a saree will always be there for you!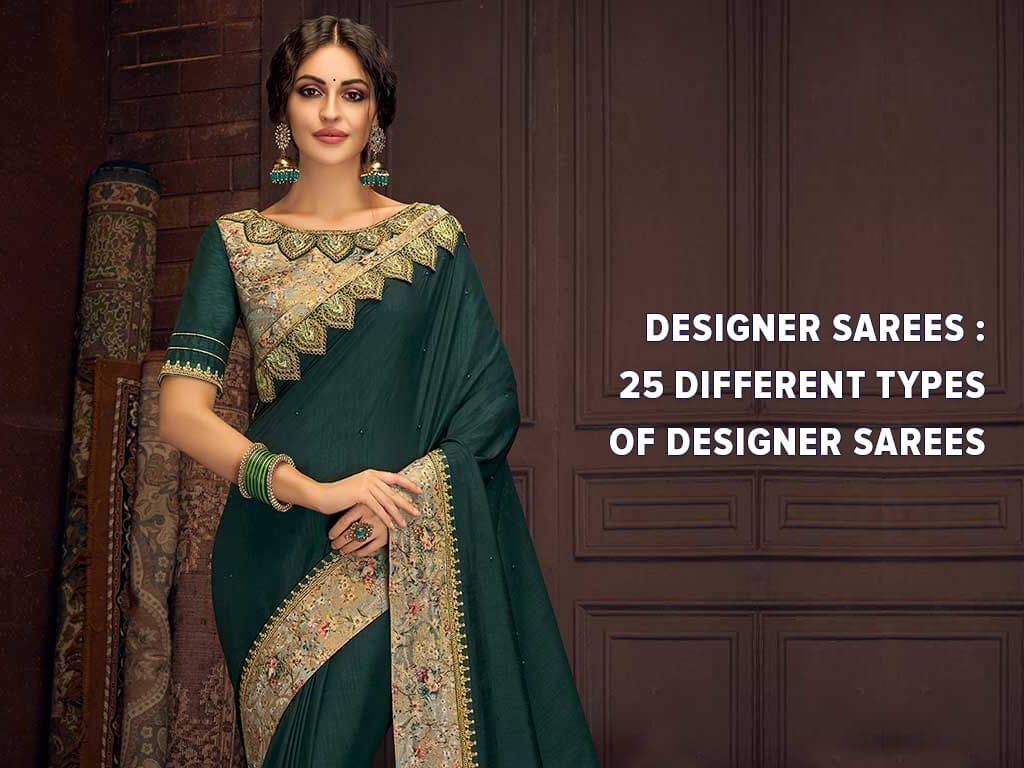 Top 25 Various types of Designer Sarees:
1. Kanchipuram sarees (or) Kanjeevaram Designer Saree
These wonderfully designed sarees are created in the Kanchipuram district of Tamil Nadu, and Kanjeevaram sarees manufacturers are one of the most well-known designer sarees in South India.
These exquisite sarees have generously created contrast borders and are crafted with the utmost precision and care. They come in brilliant and luxuriant colours and are crafted with the utmost precision and care.
The beautiful texture of them immediately captivates one's senses.
These ethnic beauties are one of India's most expensive sarees and a must-have for saree lovers. It has a particular feel thanks to the use of thick silk and a strong texture.
2. Banarasi Silk Designer Saree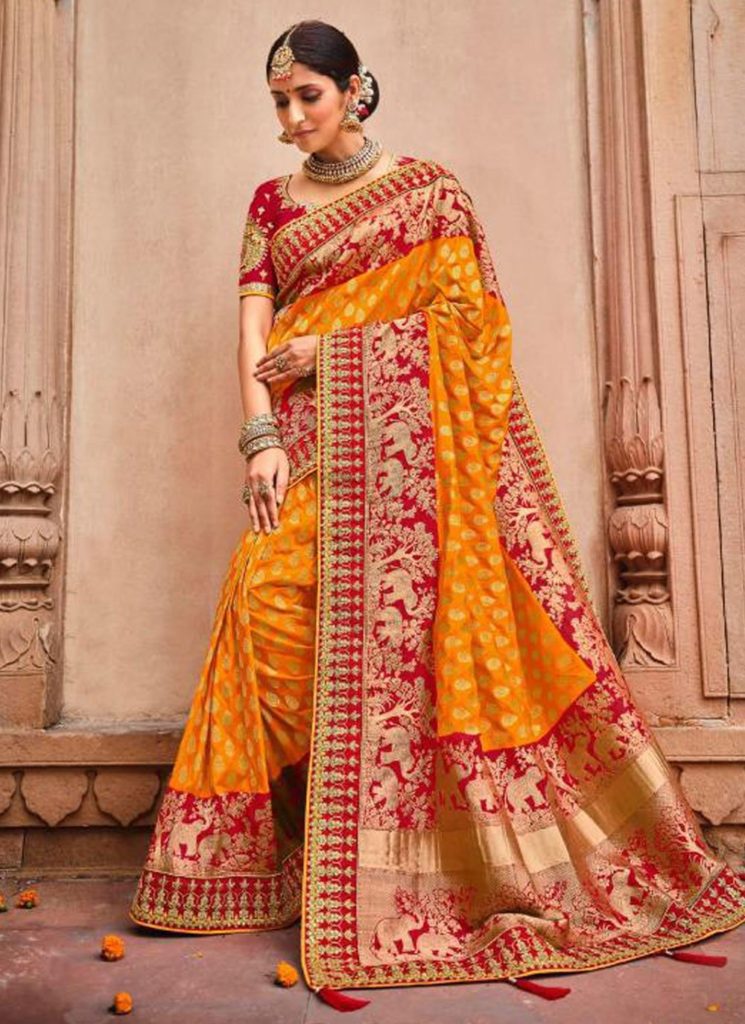 These silk designer Sarees, named after the holy city of Benares, are a must-have addition to your wardrobe.
These silk sarees are intricately woven with gold, copper, and silver threads and are rich in colour and texture.
These wholesale Banarasi sarees are the most popular ethnic garment in North India because of the eye-catching golden embroidery.
These classic and gorgeous designer Sarees are the most sought after by Indian women for important occasions such as weddings, parties, and festivities.
3. Chanderi Designer Saree
These designer sarees are made from pure silk, fine cotton, and zari and are intricately designed and beautifully crafted in the Madhya Pradesh town of Chanderi.
These feather light and transparent sarees, made from one of India's finest fabrics, are a must-have in every woman's wardrobe. These sarees are the epitome of unparalleled craftsmanship and aesthetic refinement.
These stunning designer sarees feature designs such as peacocks, coins, flowers, geometric patterns, and animal figures to captivate the senses.
4. Patola Silk Designer Saree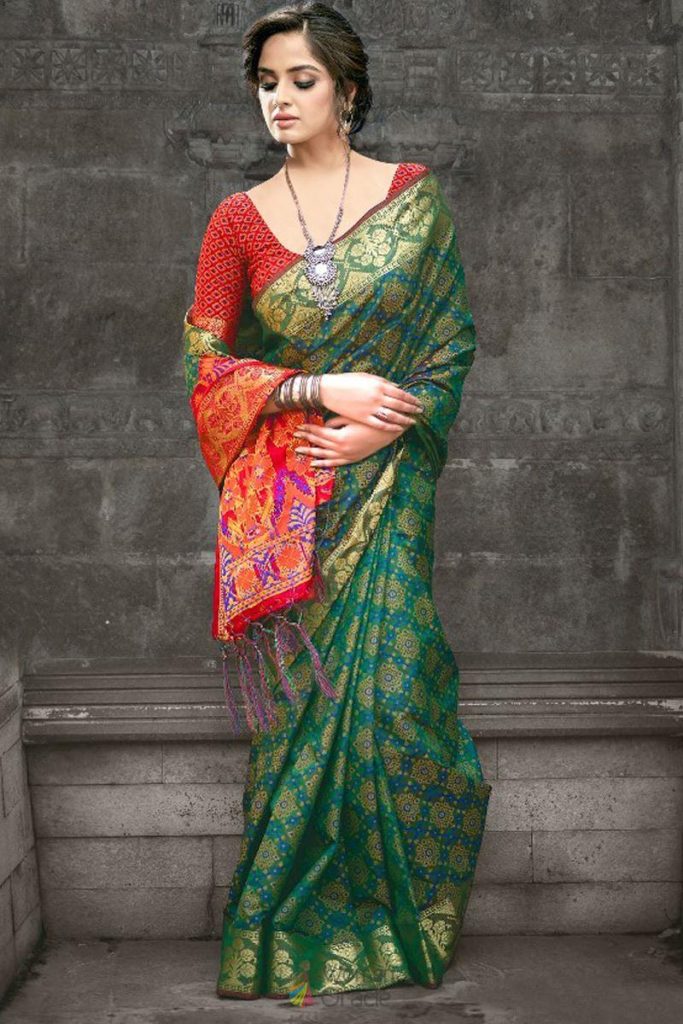 Patola sarees designs is a double ikat woven designer from Gujarat's Patan. Sarees are often made of silk.
Patola is the plural form, whereas patolu is the solitary form. The double Ikat weave means that after the saree is produced, the two sides are indistinguishable.
Both sides have the same intensity and colour, as well as the same feel and attraction.
A saree takes three to four months to weave, making them extremely expensive.
Their history reveals that they were once only worn by ladies from the royal and aristocratic classes.
These designer sarees are a must-have for those females who can afford them, despite their high price tag.
5. Mysore Silk Designer Saree
Mysore silk designer is a well-known and sought-after Indian clothing. The silk sarees made by Karnataka Silk Industries Corporation are known as sarees.
Mysore silk sarees wholesaler, one of the purest types of silk, are known around the world for its brilliant colours and luxurious feel.
The usage of genuine silk and 100 percent pure gold zari, 65 percent silver, and 0.65 percent original gold is the most distinguishing attribute of the colourful Mysore silk saree.
Golden lace is used on the margins and on the section of the saree that covers the shoulder.
6. Paithani Designer Saree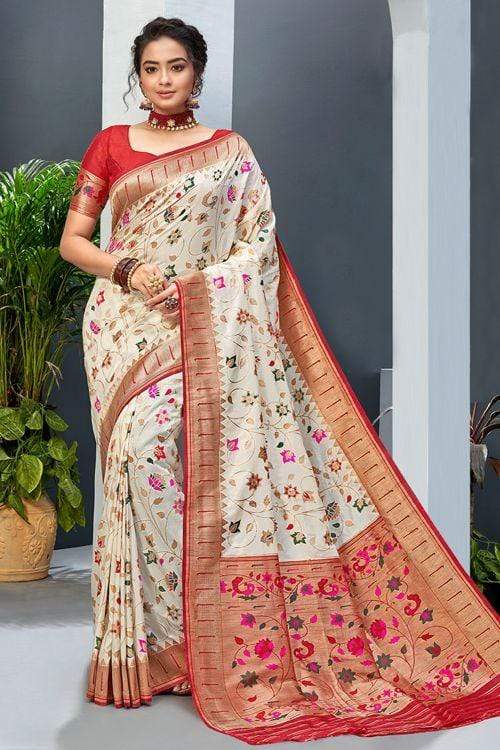 These magnificent silk sarees manufacturers are handmade and are a unique combination of luxuriance and richness, taking its name from the Paithan area of Maharashtra.
Paithani designer sarees are made with unrivalled expertise using high-quality silk, brilliant colours, elaborate motifs, and ornamental zari.
These expensive outfits, which are mostly worn at weddings and other special occasions, are imprinted with designs such as lotus, flowers, peacock, trees, parrots, and narali print.
Sarees that are semi-paithani and Tathastu paithani sarees are examples of subcategories.
7. Tant Designer Saree
The light and clear feel of these cotton sarees design is well-known. These stylish tant sarees are offered in hand-painted, embroidered, and printed styles to suit modern tastes.
These stiffly starched and precisely constructed sarees, best suited for day-to-day use, are highly popular in West Bengal, where this saree has become a household name.
The broad appeal of these sarees has made them the favourite of all women, young and old.
8. Sambalpuri Designer Saree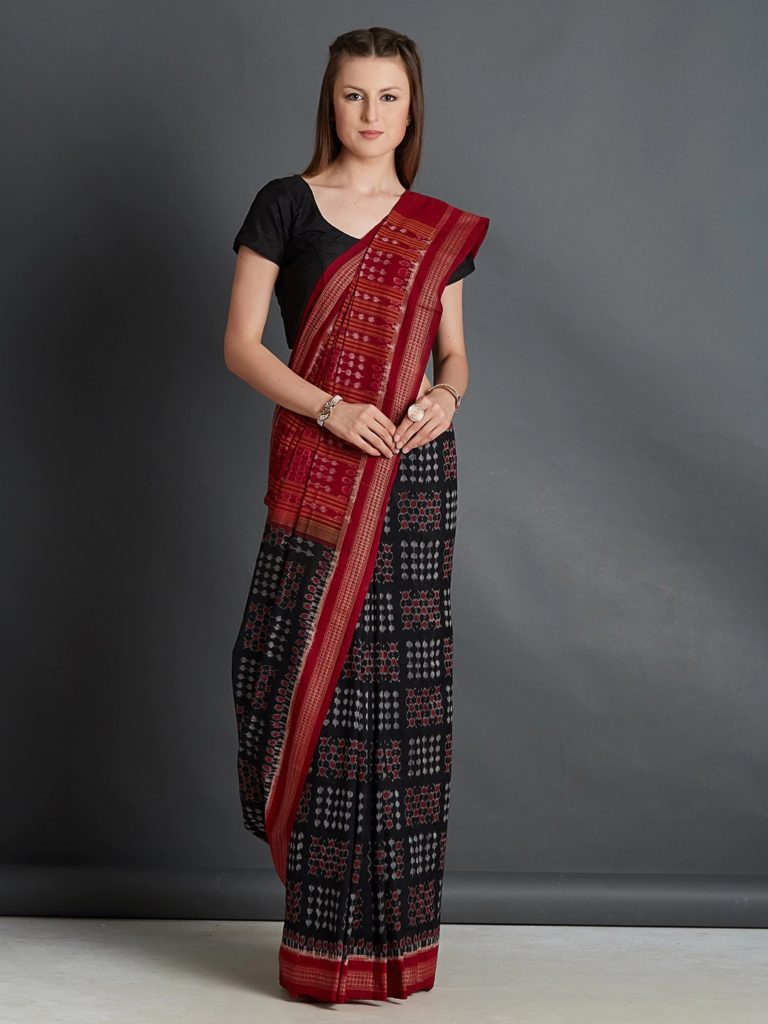 Sambalpuri designer sarees, known as the pride of Orissa, are fashioned from silk and cotton with distinctive embroidered patterns to meet the desires of saree-loving women.
Their comfort makes them suitable for domestic chores or long hours at the office.
These beautiful designer sarees have become fairly famous in other regions of India after establishing a stronghold in Orissa.
9. Phulkari Designer Saree
These appealingly embroidered designed Sarees, based on Punjabi Phulkari, provide a distinct portrayal of flower art on handwoven cotton fabric.
Darn stitch is used to produce attractive and intriguing motifs on the wrong side of the fabric.
These beautifully designed sarees, which are usually red in colour with a vivid glossy texture, are one of India's most well-known designer sarees.
If you want to feel like you're wearing Punjabi attire, phulkari is the way to go.
10. Bhagalpuri Designer Saree
These manufacturers Bhagalpuri sarees are also known as tussar sarees design and are named after a small village in Bihar called Bhagalpur.
Bhagalpur, often known as the Silk City, is famed for making world-class silk sarees that are popular among women of all ages.
Unusual dyeing techniques have made designer Sarees immensely popular around the world due to their hypnotic appeal.
11. Pochampally Designer Saree
These incredibly attractive designer sarees, also known as Pochampally Ikat, are created in Telangana's Nalgonda area.
These double ikat sarees wholesaler are known for geometric designs imprinted on the finely woven fabric, which are made from a special blend of fine silk and cotton.
People are fascinated by the designs because they are so expertly constructed.
Because of the fabric's lightness and ease, it's ideal for summer.
Pochampally cotton designer sarees and Pochampally sarees suppliers are both popular and well-known in South India, particularly in the states of Andhra Pradesh and Telangana.
12. Bandhani Designer Saree
Typically red and black in colour, these manufacturers bandhani sarees come out of Gujarat and Rajasthan.
This saree's name comes from the dyeing and tying procedure, which is derived from the word "bandhan," which means "ties."
Tieing the fabric at uneven intervals creates stripes, waves, dots, and squares, all of which are fascinating designs.
These designer sarees are available in vibrant colours such as red, blue, yellow, and green, and are ideal for many stages of life, such as a newly married woman wearing a red saree and a mother wearing a yellow saree. 
Designer Bandhani sarees with designs and mirror embroidery are extremely trendy. Additionally, pure silk or cotton bandhan sarees can be found.
13. Baluchari Designer Saree
Baluchari designer sarees are composed of silk and are created in the Bengali districts of Murshidabad and Bankura.
During festival seasons, women from aristocratic and affluent Bengali families wore these sarees. Legendary legends from the Ramayana and Mahabharata are woven into the borders of these loom-woven fabric.
Hand woven silk sarees with exquisite flowery designs carved on the corners are normally five yards long.
Gold coloured threads are weaved into the most elegant appearing baluchari designs Sarees, giving the fabric a distinct gloss and sheen.
14. Muga Designer Saree
Muga designer sarees are fashioned from Assamese silk, which is the rarest of its kind. The unusual golden tone of the sarees is primarily due to the silk's peculiarity.
These sarees have a tremendous level of durability and strength, making them a great investment. To make the sarees more appealing, other colours are added to the original yellow basis.
This Muga silk garment is a rich fabric known all over the world for its sheen and brilliance, making it ideal for special occasions.
Popular muga sarees are Tussar muga designer sarees and Assam muga designer sarees.
15. Kasavu Designer Saree
These sarees from Kerala are typically white or cream in colour and are worn primarily during festivals and weddings.
The golden brocade that runs along the edges of these designer sarees is known as 'Kasuvu.'
The traditional kasuvu sarees are handwoven from 100 percent natural cotton, although they have changed over time to include both cotton and silk.
These designer sarees with a golden border have become extremely famous for their elegance and simplicity.
The popularity of these designer sarees in Kerala can be gauged by the fact that it is deemed incomplete without them in Mohini Attam, Kerala's traditional dance.
16. Chikankari Designer Saree
The Chikankari saree, undeniably the pride of Lukhnow, was traditionally a muslin cloth dress that has evolved to be available in a variety of textiles.
The designs and embroidery of Chikankari designer Sarees are done with a range of threads and stitches, and the fabric is now a highly advanced fabric thanks to the usage of synthetic threads.
It's a one-of-a-kind variant of Indian traditional sarees, with a light texture and soothing colour palette that's appropriate for any event, casual or formal.
Pink and half-white Chikankari sarees are extremely popular and well-liked.
17. Konrad Designer Saree
Konrad designer sarees are created in Tamil Nadu and are also known as Temple sarees.
They were originally intended for temple deities. These sarees have a shorter length than traditional sarees.
Its beauty and feel set it apart from other silk sarees.
The motifs of animals and birds written on the borders of these gorgeous and graceful designer Sarees add a unique touch to these ethnic clothing.
18. Kota Designer Saree
These sarees originally belong to the city of Kota in Rajasthan.
These lovely translucent designer sarees, which are mostly composed of fine cotton, silk, or a combination of the two, are suitable for any occasion, whether it casual or formal.
For sweltering summer days, the silky suppleness of these sarees is ideal.
These designer sarees were originally white or beige in colour, but thanks to contemporary saree weaving technology, they are now available in a wide range of hues.
The fabric's airy, translucent, and thin feel makes it quite comfortable to wear.
Pure kota doria sarees, Zari kota sarees, plain kota sarees with zari border, and other variations are popular. 
19. Dhakai Jamdani Designer Saree
It's no accident that Bengali women are regarded as the most beautiful in the world. It goes without saying that these stunning designer sarees elevate Bengali women to the top of the world's most attractive women list.
Bengali sarees are one-of-a-kind and beautiful, with the best example being dhakai sarees, which originated in Dhaka, Bangladesh. Bangladeshi dhakai jamdani sarees and Bangladeshi jamdani sarees wholesaler are two names for these beautiful sarees.
Dhakai Jamdani sarees are known for their meticulously created designs that appear to protrude from the light, transparent cloth. These exquisite and airy designer sarees have a magical allure.
20. Gadwal Designer Saree
Gadwal, located between the rivers Tungabhadra and Krishna, is known for its handloom weaving industry, which spans Andhra Pradesh, Telangana, and Karnataka.
Silk Gadwal sarees are recognised for their gorgeous zari work, wonderfully made Kuttu borders, and lightweight and easy-to-wear fabric, whilst cotton-based designer sarees offer a rich look and pleasant wear to the wearer.
Gadwal designer sarees have a special significance for any occasion since they combine traditional quality with current flair. In and around Hyderabad Gadwal sarees are quite popular.
21. Jamawar Designer Saree
Kashmir is the source of these lovely designer sarees.
On pure silk or pashmina, jamawar is a beautifully made saree with brilliant colours and eye-catching designs.
The word 'Jamawar' refers to a traditional Indian saree that was previously used by royalty for the purpose of dressing oneself and is now a highly popular variation of Indian traditional sarees that you can wear for special occasions.
Jamawar is a highly embroidered silk or pashmina saree with brilliant colours and eye-catching patterns.
22. Kantha Stitch Designer Saree
Kantha sarees manufacturers is a type of needlework that originated in West Bengal and Orissa. Simple run stitch is used to produce the pattern of the designer sarees on a silk or cotton yard.
With the use of colourful silk threads, the stitches are employed to create elaborate designs all over these Indian traditional sarees, especially on the pallu and border.
23. Tanchoi Designer Saree
Tanchoi is a one-of-a-kind weaving technique that uses a single or double warp and two to five colours in the weft, all of which are often the same shade, and is done on silk cloth.
It is a famous silk designer saree in and outside India due to the richness of the hues and the softness of the fabric.
Satin tanchoi, satin jari tanchoi, atlas or gilt tanchoi, atlas or gilt tanchoi, atlas or gilt tanchoi, atlas or gilt tanchoi, atlas or gilt tanchoi, atlas or gilt tanchoi, atlas or gilt
These designer sarees are ideal for formal events including weddings, ceremonies, and celebrations.
An autumn or winter saree made of the tanchoi cloth is best worn in cooler weather because of the fabric's warmth.
24. Kimkhab Designer Saree
It was thought that these designed Sarees were among the best and most sumptuous textiles of the Mughal Empire.
Modern bridal sarees often have this pattern with thick brocade and exquisite embroidery inspired by the Islamic cultural tradition.
In addition to warp threads, the brocade pattern features a lot of wefts and layers, which adds to the richness of the embroidery design.
25. Nauvari Designer Saree
Kasta Saree and Nauvari Saree manufacturers are two other names for them, and they originate from Maharashtra.
In the Hindi language, the word 'Nauvari' means nine yards. With the dhoti, it has a more traditional look.
Mainly worn by Maharashtrian Brahmin women, these traditionally valued sarees are usually composed of cotton.
These designer sarees are popular with both young and old women, regardless of their age.
The Nauvari designer Sarees must be draped in a certain way, which demands some talent. Traditional dancers wear these sarees.