Trending Kurtis for Diwali 2021: When it comes to wardrobe options, Indian women are truly blessed with a diverse range of ethnic wears. They come in a variety of styles to suit every body, type, and taste. Though women are increasingly influenced by western styles, when it comes to festivals, particularly the grandest of all, "The Diwali Festival," the market becomes crowded with ladies looking for a variety of ethnic wear kurtis trends for Diwali festival.
Festivals are all about traditions and culture, and our Indian culture is a veritable goldmine of ethnic inspiration for our wardrobe staples. When it comes to traditional Indian women's wear, kurtis have undoubtedly become a permanent clothing trend for Diwali among fashionistas who are both aborigine and migrated to India. If you are a women's clothing retailer or boutique owner looking to sell ethnic outfits from your store this Diwali, you have come to the right place as you can browse through various fashionable and latest kurtis trends for Diwali festival 2021 available at Wholesale for this Diwali.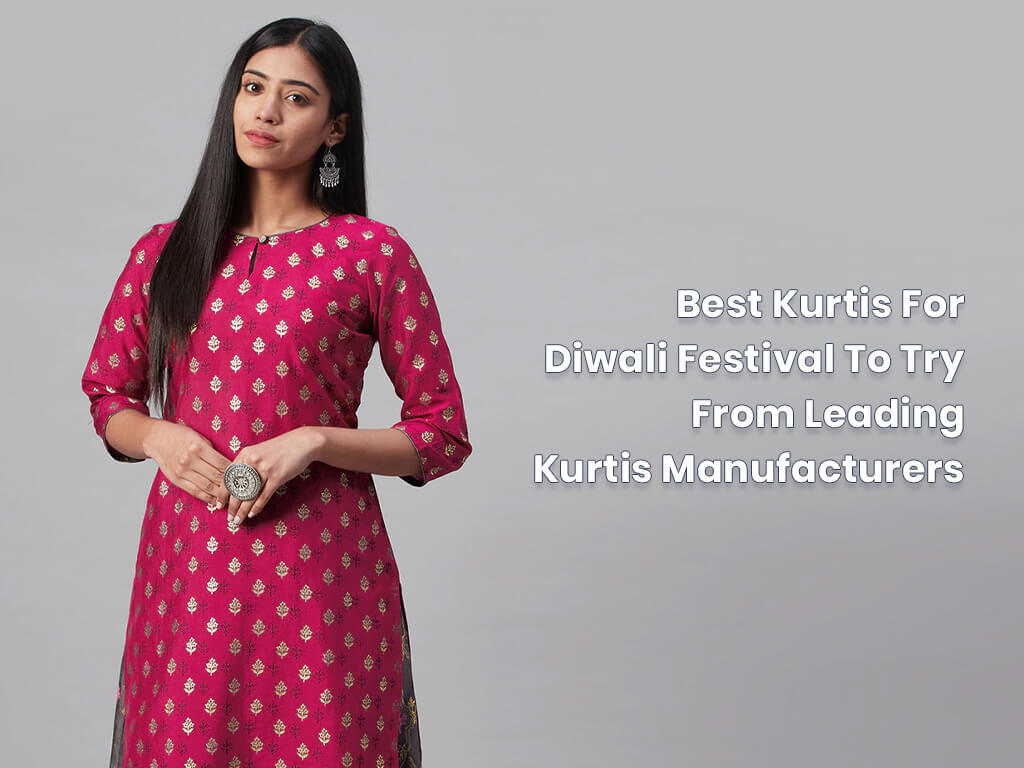 Diwali Clothing Trends 2021
Kurtis trends for Diwali festival are in high demand this Diwali because of their perfect blend of traditionalism and modernism. With their heads held high in the fashion game, Indian women are also purchasing fusion wear, as kurtis perfectly blend with western outfits and create a style that is as unique as it is Indian. Kurtis trends for Diwali festival are now preferred by working women over traditional corporate attire. Whether they are college students or working women, the kurti is a sophisticated and sought-after ensemble that can be worn on any occasion.
Latest Kurtis Trends For Diwali Festival 2021:
Red Floral Rayon Kurta For Diwali Festival
During the holiday season, ladies are particularly fond of the colour red. This foil printed red rayon kurta will undoubtedly add to your Diwali wear for women collection this year.
Turquoise Blue Cotton Kurta with Palazzo Pant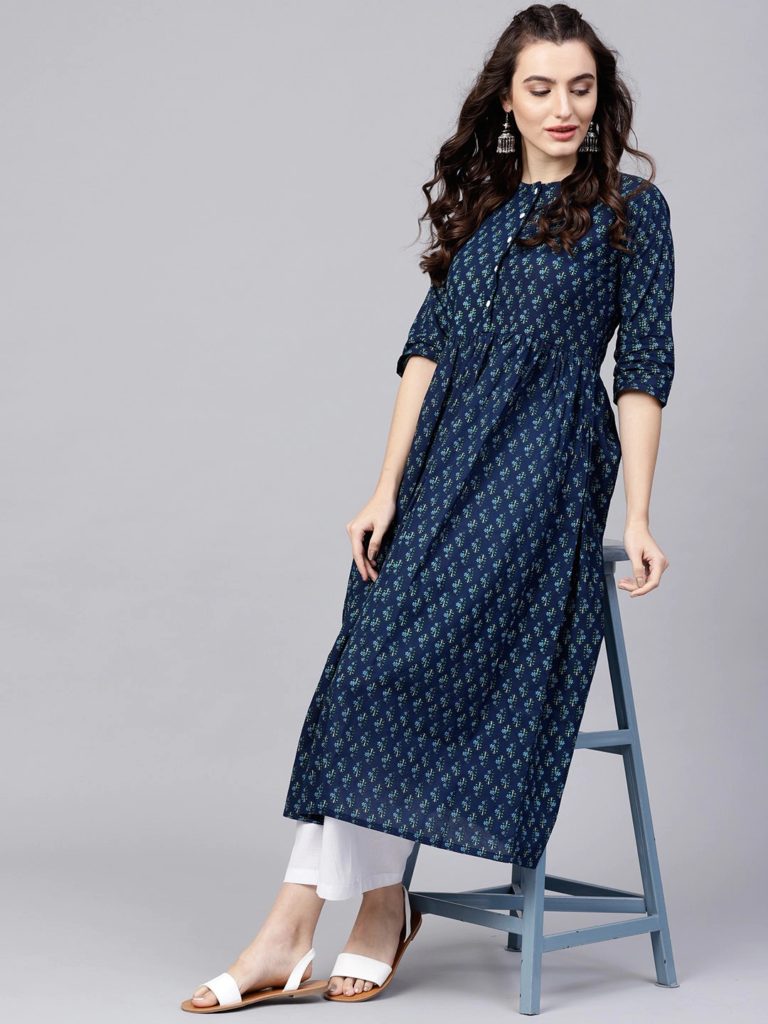 Cotton kurtis with palazzos are becoming increasingly popular and have clearly become every woman's favourite. This indicates that this combination will be in high demand during Diwali as well. With this beautiful turquoise blue geometric straight cotton kurta paired with palazzo pants, you can offer an Indo western dress outfit option through your store.
Yellow and Maroon Chanderi Kurta paired along with Patiala and Dupatta
This viscous chanderi kurta with patiala and dupatta features a side slit, buttons, border detailing, 3/4th sleeves, and a Mandarin collar. The colours represent Indian tradition and are sure to entice customers who come to your store for Diwali shopping.
A-Line Rayon Kurta with Inner
Look at this lovely red and gold-toned printed layered A-line kurta, which sells quickly during the Diwali shopping season due to its softness and traditional appearance.
White and Coral Ethnic Motifs Straight Cotton Kurta paired with a pair of Pants
Here's another fashionable option for women looking for a serene yet chic look this Diwali. This white long straight fit cotton kurta with a booti print, side slit as well as sleeveless with round neck and paired with regular coral pant is both traditional and sophisticated.
Orange A-line Box Pleat Chanderi Kurta goes with Tussles
This exclusive wholesale A-line kurta for Diwali is extremely beneficial to retailers and boutique owners because these are extremely popular with customers.
Orange Chanderi Kurta can be paired with Cream Chanderi Checks Palazzo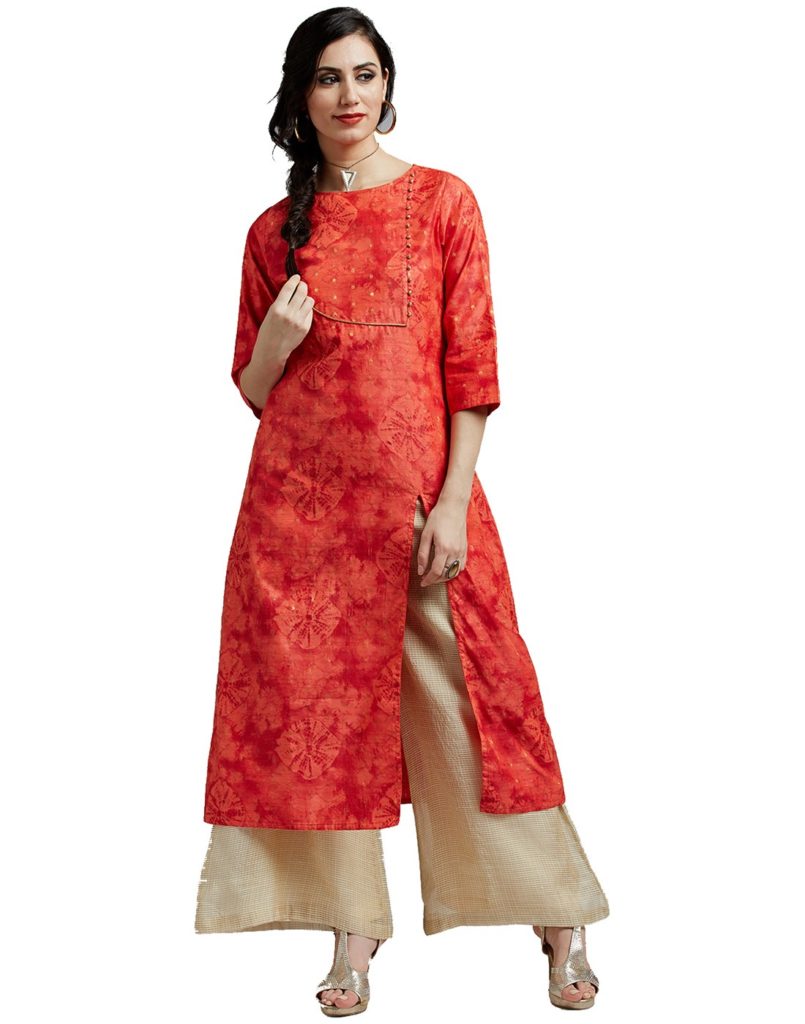 This lovely orange and cream colour combination, paired with the graceful chanderi fabric, propels it to the top of the list of best-selling kurtis trends for Diwali festival.
Navy Blue Tussar Silk Kurta on top of Brocade Pants
This kurta outfit combination is for women who prefer a simple yet classy look for Diwali.
Handloom Cotton Kurta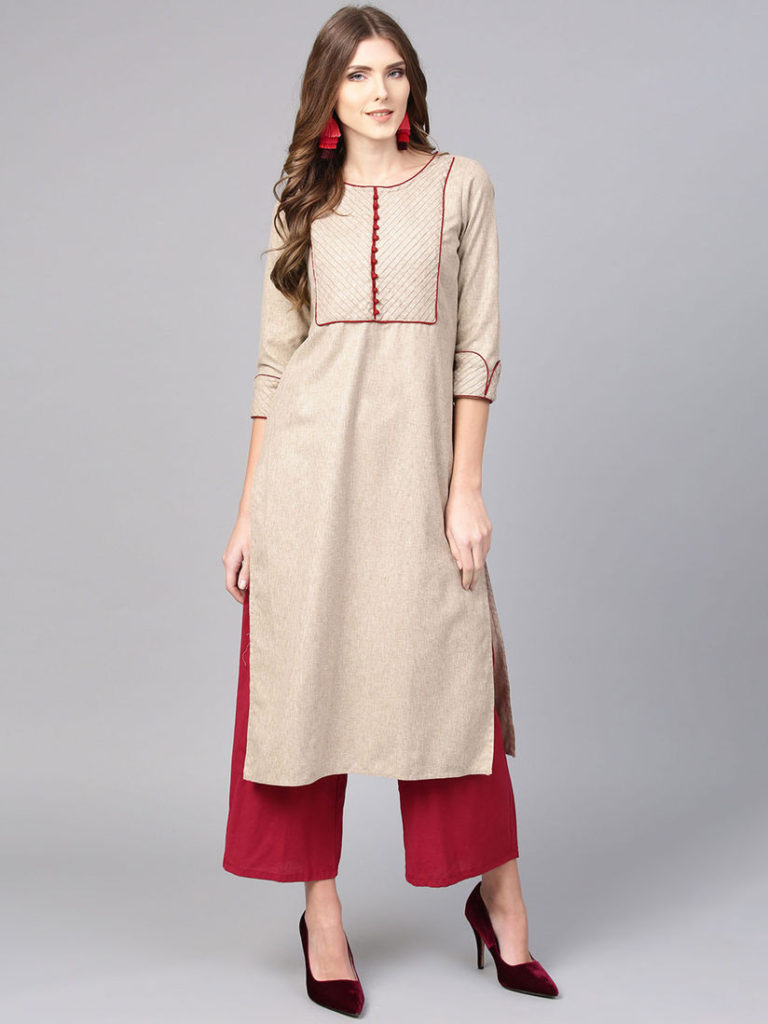 Women can improve their profit revenue this Diwali by making a hassle-free online purchase of wholesale handloom kurtis. This lovely handloom kurta establishes a new trend for all the ladies who enjoy wearing thread work kurtas.
Geometric Printed Cotton Kurta
Because they come in a range of shapes and patterns, printed kurtis wholesaler are constantly in high demand and are the best-selling Diwali attire.
Conclusion:
As the Diwali festival approaches, leading suppliers and manufacturers offer wholesale latest kurtis trends for Diwali festival for boutique and retail stores in a variety of designs and patterns ranging from embroidery to abstract prints. When it comes to fabric, you'll have a plethora of options ranging from cotton and georgette to chiffon and satin.
Because of their variety, designer kurtis have now entered mainstream Indian fashion. And, as the demand for kurtis for the Diwali festival has increased, wholesale kurtis manufacturers have faced stiff competition to satisfy their fashion-forward clothing retailers and boutique owners.
Many designers have designed artistically crafted wholesale kurtas for Diwali that are likely to please the diverse tastes of people shopping for Diwali outfits at your store. The best part is that you don't have to go to the top suppliers and manufacturers to find a specific shade or pattern.
With the introduction of the e-commerce platform, shopping for wholesale latest kurtis trends for Diwali festival has become much easier. With just a few mouse clicks, you can now source inventory for your boutique. So, if you're looking to buy wholesale kurtis trends for Diwali festival , leading suppliers and manufacturers can be your best bet. Choose from a variety of patterns and colours, and select the items that will increase your sales profit this Diwali.