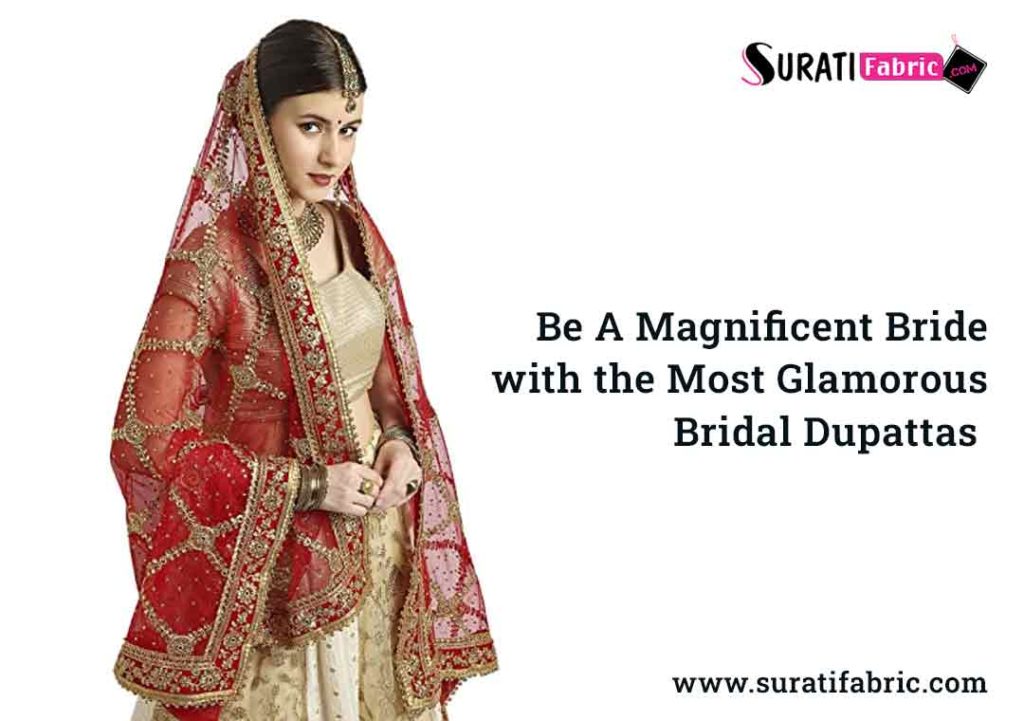 A bridal dupatta plays the most crucial role in a wedding as it enhances the overall bridal aesthetic and without a bridal dupatta, the bridal look is incomplete. People will gasp in admiration as you walk into your wedding venue wearing a stunning gown and an exquisite and distinctive bridal dupatta.
So, there is no doubt that you should make the best decision possible for your bridal dupatta because it will be the most noticeable component of your outfit on your wedding day. A wide variety of bridal dupattas in surat are available in several stores that elevate the beauty of a bride and make her look attractive and gorgeous. We have mentioned some trendy and drool-worthy bridal dupattas in this blog to help you find the best bridal dupatta in Surat for your wedding day.
Stunning and Trendy Dupatta Designs Every Bride Must Try On Their Special Day
A bridal dupatta is an extremely crucial, irreplaceable, and most beautiful component of a bride's wedding attire. A bride can get an extra glow, elegance, and beauty by wearing a stunning bridal dupatta.
From traditional red colored bridal dupattas to modern and stylish dupattas, the options are enormous. Brides are enhancing their bridal looks by donning magnificent, substantial, and unique bridal dupattas nowadays. Bridal dupattas come in numerous different styles, lengths, fabrics, gorgeous designs and shades. Hence, choosing the most ideal bridal dupatta for your big day is a challenging task. Here are some stunning and magnificent bridal dupattas that will offer you a marvellous bridal look.
1. Banarasi Silk Dupatta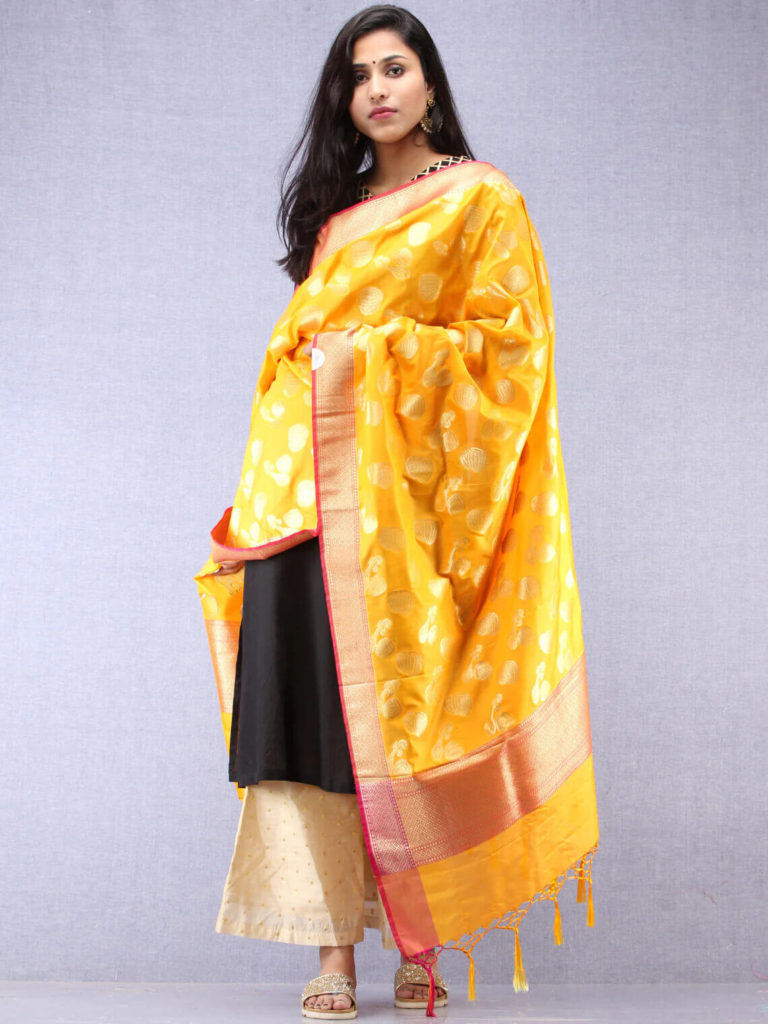 Banarasi silk dupattas are renowned for their elegance and amazing glow. These royal bridal dupattas are the most preferred choice of both the royal ladies as well as ordinary ladies. Brides can look like a gorgeous queen. Due to the richness of Banarasi fabric, these regal bridal dupattas also offer a vintage appeal.
Those who wish to get a fully traditional and royal bridal look, these glorious bridal dupatta is the most appropriate option for them. When you enter your wedding venue by wearing this one, you will shine like a queen. If you are wearing a traditional red Banarasi saree or a lehenga on your wedding day, then this one will definitely go well with your traditional bridal attire.
2. Net Dupatta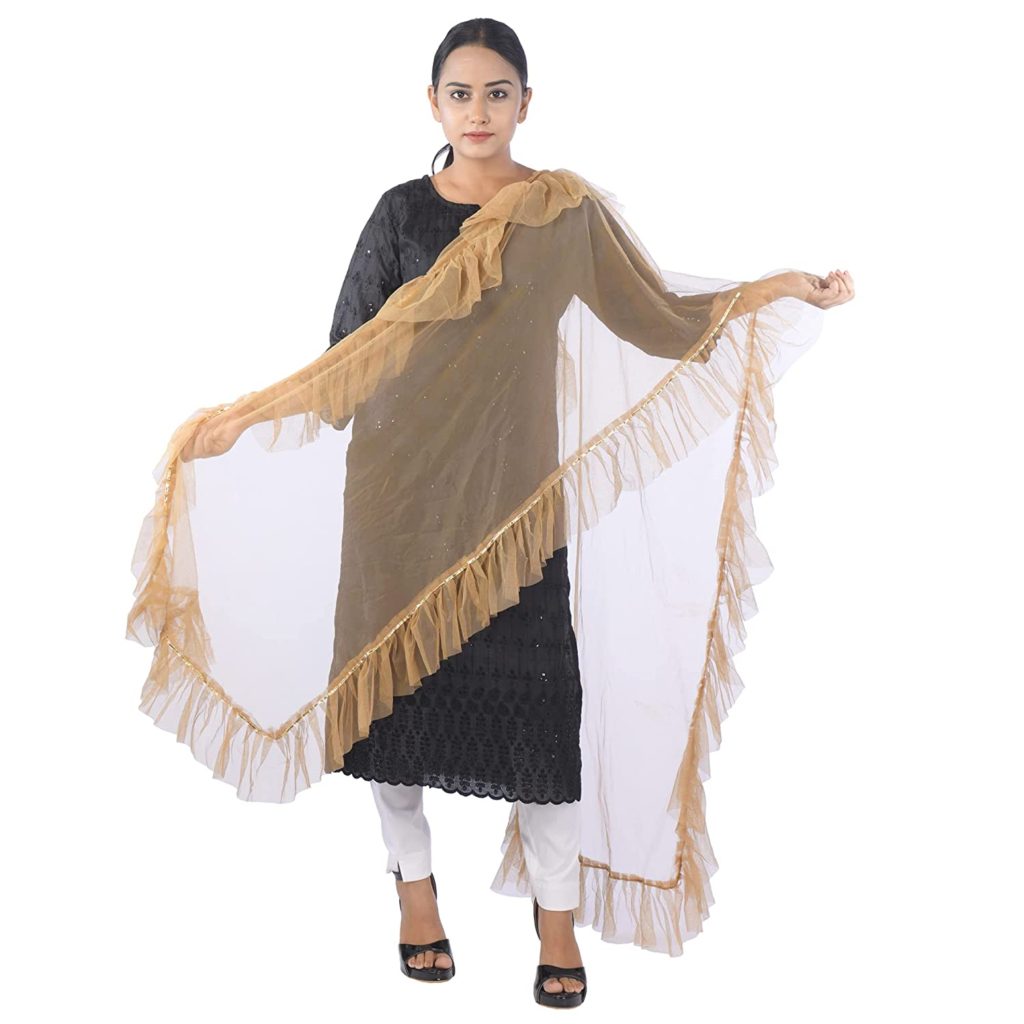 Net dupatta has been the most popular and well-liked bridal dupatta for so many years because of its shimmering look and lightweight nature. This alluring bridal dupatta is the most preferable choice of every bride. It is quite adaptable.
If you wear an embroidery work or zari work net dupatta on your wedding day, you can surely steal the show as it may offer you a striking appearance on your special day.
3. Velvet Dupatta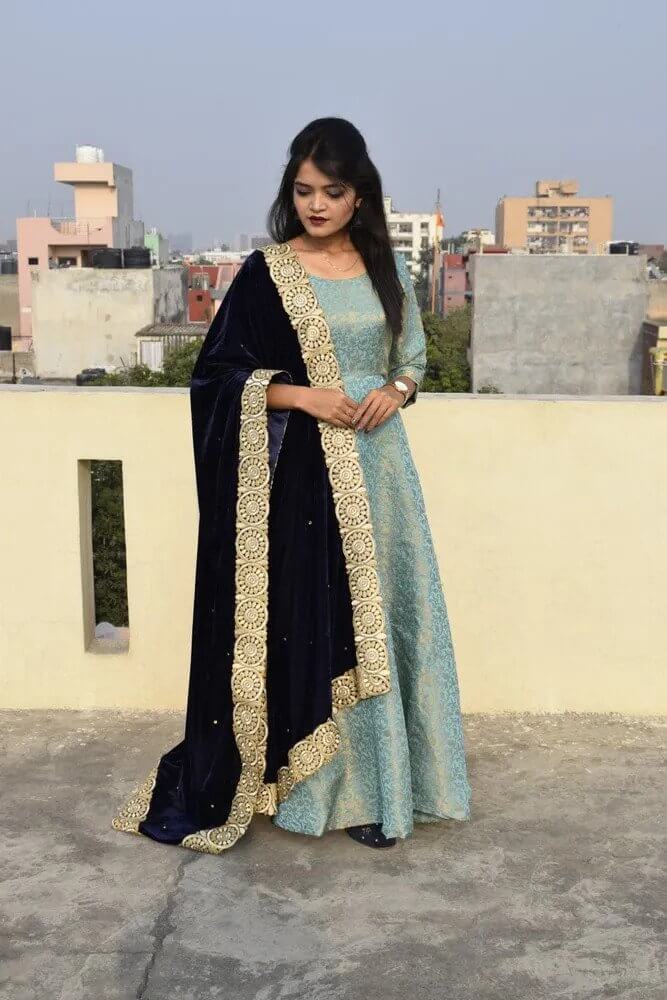 If you want a dreamy and mesmerizing bridal look on your big day, a velvet dupatta is obviously the right choice for you. Since the velvet fabric is so warm and thick, this luxurious and soft bridal dupatta can keep you warm during winters. Therefore, velvet dupattas are ideal for winter weddings. Additionally, they make the brides feel regal and opulent.
It will look incredibly stunning when you wear a regal velvet dupatta with beautiful embroidery work. Its luxurious, smooth and creamy texture makes this one the most glamorous bridal dupatta and it is a favourite choice of many brides.
4. Embroidered Jaal Work Dupatta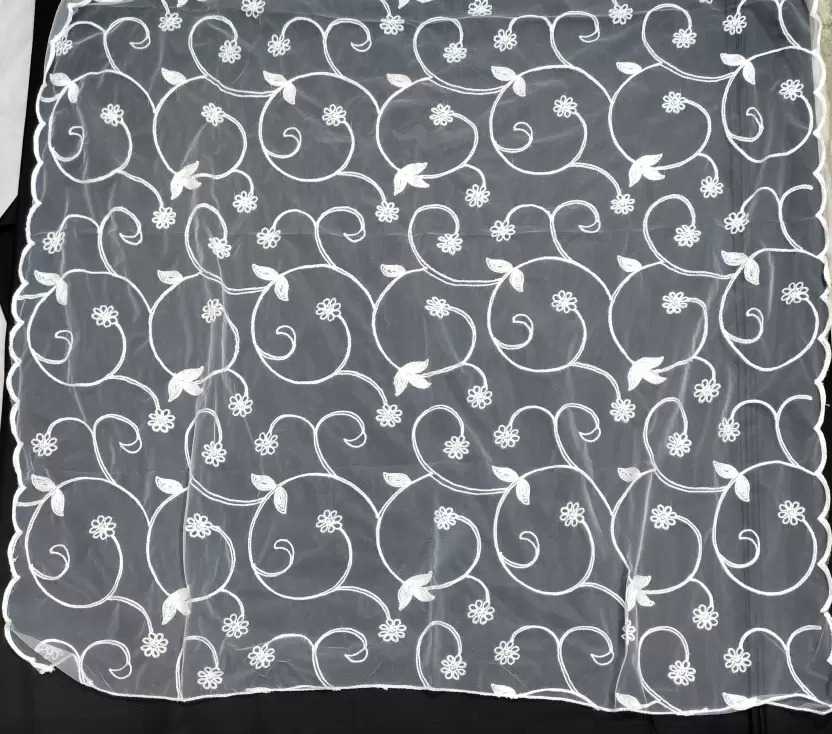 The embroidered jaali work dupatta is the latest bridal dupatta trend and it is becoming more well-known among millennial brides because of its eye-catching embroidery work all over the body. These heavily embellished bridal dupattas make the brides look alluring and attractive.
If you wish to go beyond the traditional bridal dupattas and experiment with some latest stylish dupatta, then you may try this drool-worthy dupatta in order to get a dazzling look. These trendy bridal dupattas are incredibly distinctive and well-liked right now.
5. Embroidered Organza Dupatta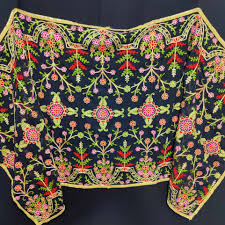 The newest fashion trend in Indian weddings is embroidered organza dupatta. As organza bridal dupattas are graceful, and lightweight, these have become one of the well-liked bridal dupattas nowadays among fashionable brides. Those who wish to maintain their fashion statement on their wedding day, organza dupatta is the best choice for those fashion-lovers.
This adorable bridal dupatta's sheerness and alluring embroidery designs on the modern can give your bridal outfit more glitz. With these lovely dupattas, you may create a revitalising and delightful bridal style. As these modern bridal dupattas are very lightweight, you can carry it without any stress. So, if you wish to achieve a unique and contemporary bridal look, you need to try this one.
6. Zardosi Dupatta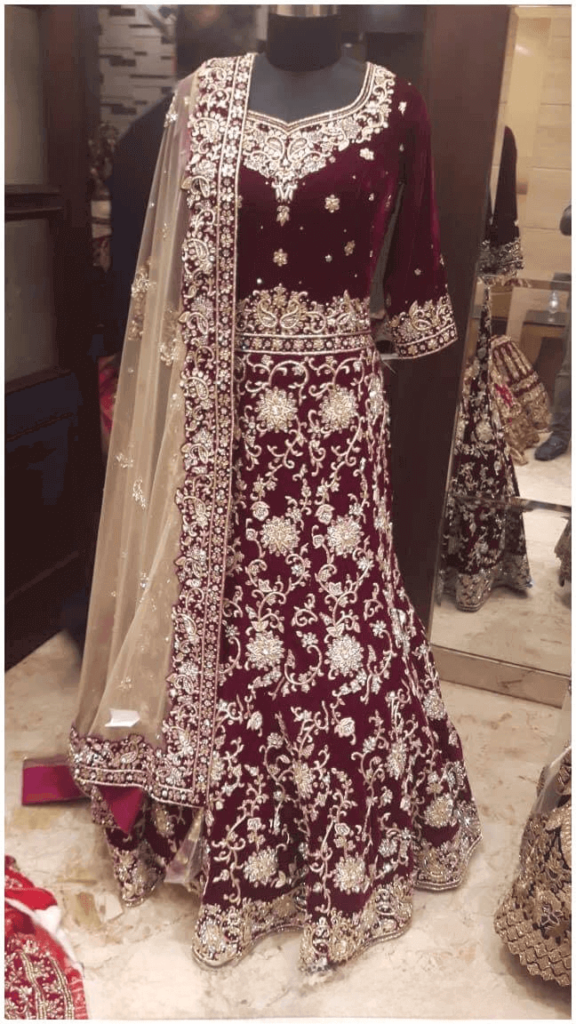 This one is the most gorgeous bridal dupatta and it is extremely famous among Indian brides. This stunning and classy bridal dupatta has a particular place in every bride's heart. Obviously quite luxurious, they are conventional, gorgeous and traditional. You will look incredibly stunning by wearing this one with your gorgeous bridal attire.
Wrapping Up
We believe that this article will help you find a stunning dupatta for your wedding. If you are looking for the most glamorous dupatta for your special day, then Surati Fabric is obviously the ideal option for you. One of the top online Dupatta Wholesalers in Surat is Surati fabric. We offer a large variety of dupattas for various purposes and in various fabrics. You can purchase an extravagant bridal dupatta from us at reasonable rates.