Table of Contents
Lehengas are what every Indian lady wishes to wear on any traditional occasion to dazzle everyone. But when it comes to select the perfect modern hairstyles for lehenga, most of the ladies become confused and cannot decide which one will match with their face type and lehenga. If you are someone who wants to add a modern twist to your traditional lehengas then let us tell you something. Plenty of modern hairstyles for lehenga cholis are now in the latest trend which you can try to mix and match the traditional and modern style.
Do you have a dream to be the showstopper of a special occasion with a beautiful lehenga and perfect hairdo? We can provide you with various beautiful hairstyles that you can try with your lehenga to get an attractive look. We have selected top 50 trending hairstyles for lehengas that will go with every lehenga style and never let you go out of style. Scroll down to check them out and get your hand into the best one which will match your face cutting and your lehenga as well.
Try These Quirky and Modern Hairstyles with Lehenga Cholis to Stay Out of the Ordinary
Hairstyle is something that can easily make or break the whole look of any attire. That's why choosing the right hairstyle for a lehenga is a very crucial task which you need to do with sincerity. Both Bollywood celebs and ordinary ladies these days are experimenting with several unique and latest hairstyles with lehengas for getting an eye-catching beauty. That's why different types of modern hairstyles for lehengas have become famous these days in the fashion world.
Fashion and tradition go hand in hand when you wear a lehenga and style it with a modern hairstyle. The correct and super stylish hairstyles with lehengas have the superpower to intensify the entire look of your lehenga even if you are not wearing any gorgeous jewellery. For your convenience, we are giving you 50+ modern hairstyles for lehengas in this blog post. Keep patience and read the blog to the end to get some knowledge about different varieties of modern lehenga hairstyles.
1. Front Puff With Loose Curls and Hair Clips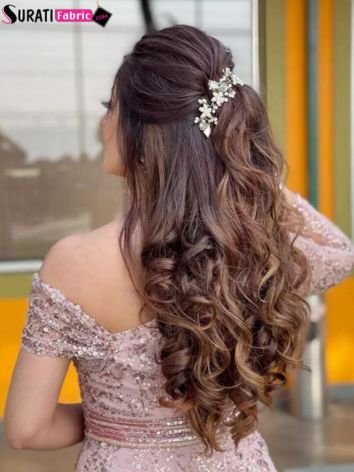 Puff hairstyle is a very popular hairstyle trend that does not look wrong with any type of attire. And when you add a little bit extra style to it by doing some loose curls and decorating it with gorgeous hair clips, it will be the best hairdo option for your gorgeous lehenga. Front puff with loose curls and hair clips is one of the most famous modern hairstyles for lehengas most of the modern ladies are adapting to style their bridal lehenga or festive wear lehenga.
Be it an engagement party, any pre-wedding ceremony like Mehendi, Sangeet, Haldi, wedding ceremony or reception party or a special festival, this hairstyle will never go wrong with any event. This hairstyle is perfect for any face cut but ladies of oval-shaped faces look best in this style. Go with the trend and apply this modern hairdo to add on an extra bit of style to your lehenga look. Those who have curly hair get an advantage from this hairdo as they do not need to do an extra effort to curl the hair. 
2. Half-tie Hairstyle with Flowers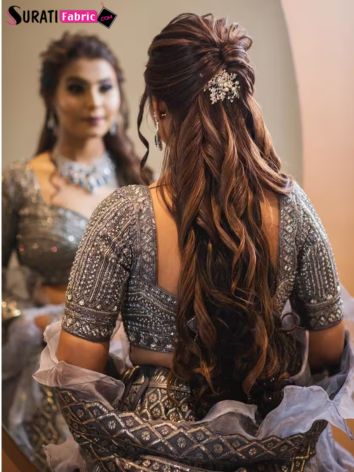 Half-tie hairstyle with flowers has come out as one of the most trending lehenga hairstyles these days. This versatile hairdo is suitable for all face cuttings and goes well with all functions. As it does not take lots of time to be made and is very easy to create, you can try it when you are getting late for an event. It will help you create elegant yet stylish fashion. 
Just half tie your hair and keep the rest part loose and style the half-tie portion with some beautiful flowers. The flowers will add an additional charm to the hairstyle. Try this hairstyle to get a classy yet graceful appearance and flaunt your feminine beauty when attending a Mehendi or Haldi ceremony or a reception party.
3. Voluminous Twisted Braid Attached with Flowers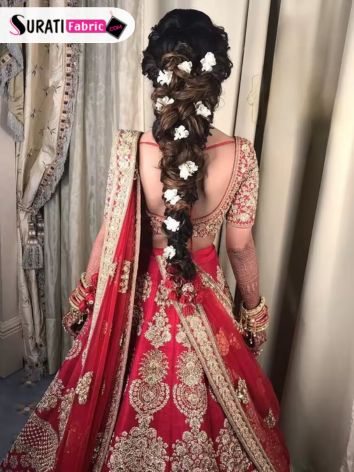 Wanna try a quirky and mesmerising hairstyle with your lehenga choli instead of the cliche bun or braid hairstyle? Create a voluminous twisted braid and attach flowers to decorate it. The extra volume of this hairstyle is enough to glorify your entire lehenga look. This is a perfect hairstyle for long hair. So, we advice you to try this modern hairstyle if you have very long hair, as ladies with short hair cannot create a beautiful volume.
4. Bohemian Braid Hairstyle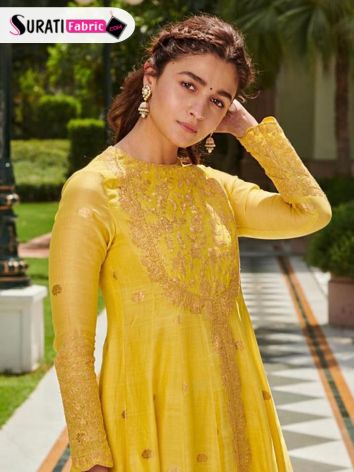 Forget the cliche and conventional lehenga hairstyle and create a boho look with the bohemian braid hairstyle. Recently, popular Bollywood actresses Kriti Sanon and Alia Bhatt have been spotted in this hairstyle. They left the crowd in awe with their whimsical look with this quirky hairstyle. It is considered as one of the most unique and stylish lehenga hairstyles. If you want a fuss-free hairdo to add a bohemian vibe to your traditional look, then give it a try once.
5. Side Braid with Stylish Hair Accessory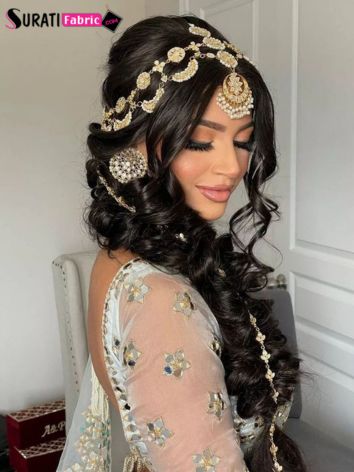 Stun everyone with your dramatic appeal by creating a side braid with stylish hair accessory when wearing your most favourite and dazzling lehenga. It is one of the simplest yet trendiest hairstyles with lehenga which is perfect for heavily embellished lehengas. The gorgeous hair jewellery you will use to decorate your side braid will match the opulence of your lehenga perfectly. This easy yet gorgeous hairdo with a designer lehenga will fulfill your dream of looking like a lavish queen on special occasions.
6. Side Braided Bun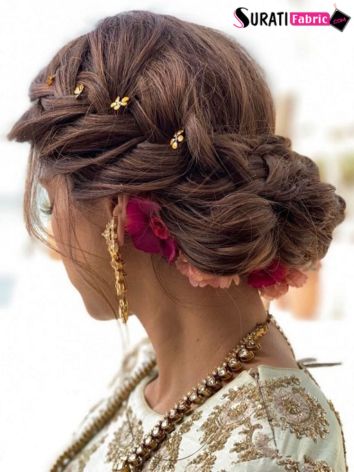 One of the chic hairstyles for lehenga that will help you stay out of the ordinary at any special event is the side braided bun. This is the easiest and quickest way to get a sassy and elegant look with your lehenga. If you want to go beyond the traditional bun style and add a quirky look to your bun, then this is the best hairstyle you can definitely try when going to a wedding ceremony, or pre-wedding event. Take inspiration from well-known Bollywood celeb Sonam Kapoor, Kareena Kapoor and others to create a perfect side braided bun.
7. Slicked and Fuss-free Back Bun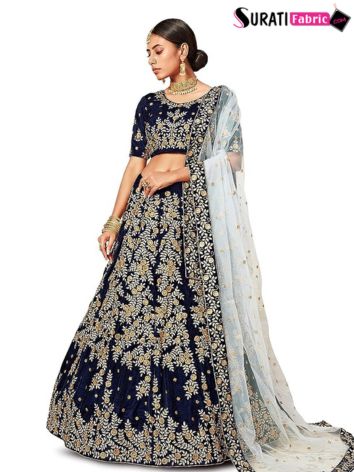 Slicked back bun is something that will never go out of fashion how many modern hairstyles for lehengas will come and go. This elegant, and sober hairstyle has been around in Indian fashion for centuries. You will be free from any fuss and friziness by doing this neat and elegant hairdo. Although it is a sophisticated hairstyle, it will add a classic look to your traditional lehenga. You may decorate it with gajra or some jewelley to amplify its beauty or keep it minimalistic if you love a simple look.
8. Sleek and Tight Ponytail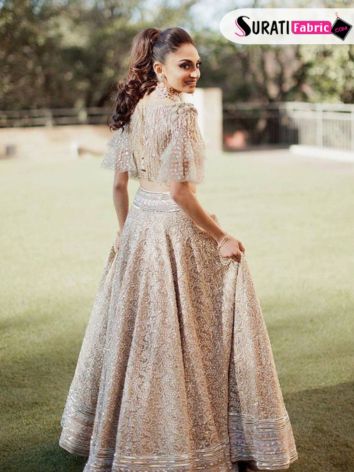 Want an uber-chic and dashing look for your reception party? Style your reception lehenga with a sleek and tight ponytail. All modern brides these days prefer this style since this is fuss-free and one of the easiest yet ultra-stylish hairstyles for lehengas. Keep your lehenga look minimalistic yet dashing with this voguish lehenga hairstyle.
9. Sleek and Straight Open Hair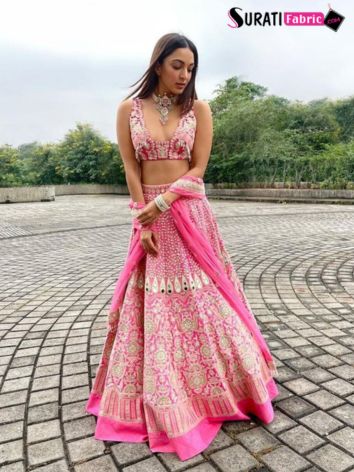 No other hairstyle can still beat the dashing look of the sleek and straight open hairstyle. This hairstyle is as much attractive and stylish like other types of modern hairstyles for lehenga. This simplest hairstyle will save you when you are running late and don't have enough time to create any critical hairstyle. Those who have straight and short or medium-length hair, will look immensely appealing by doing this hairstyle with their lehenga. Try this style once and be the most attractive diva and the head-turner and let the natural beauty of your hair come out.
10. Go for Retro Style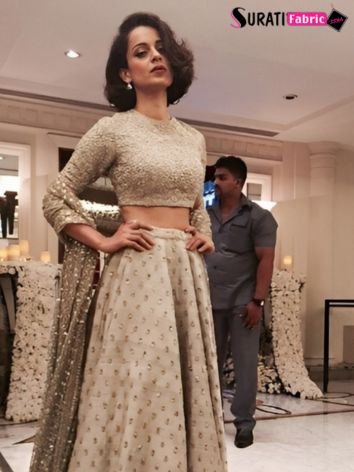 Can't you get the right hairdo option for your lehenga just because you have very short hair? Just go for the retro hairstyle and see how this age-old yet evergreen style will help you win the fashion game. Retro hairstyles have made a major comeback these days in the fashion world and several modern ladies are adapting this style to get a distinct look among everyone. Whether it is a wedding occasion or a casual or semi-formal event, you will be the most dashing diva on any occasion if you try this style with your lehenga.
List Of Modern Hairstyles for Lehenga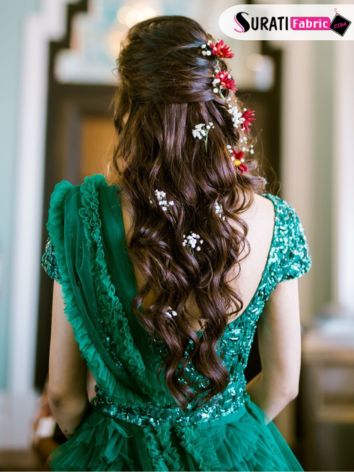 11. Loose Half Up Half Down Hairdo
12. Rose Tucked Low Bun
13. French Braided Bun
14. Waterfall Braids Hairstyle with Roses
15. Crown Braids Stucked with Flowers
16. Side Parted hairstyle with Hair Clip
17. Sleek Low Bun with Rose
18. French Bun with Accessories
19. Effortless Messy Side Bun
20. Flowered Criss-cross Braid
21. Low Donut Bun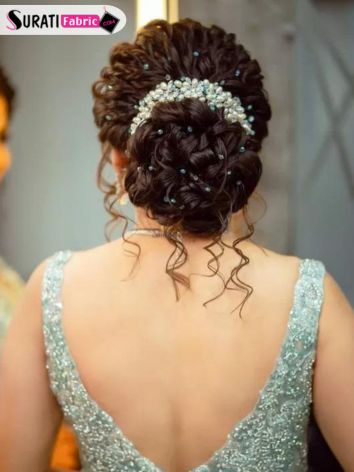 22. Curly Bun with Jewellery
23. Puffed And One-Sided Rolled Hair
24. Mid-parted Open Hair with Maang Tika
25. High Bun with Loose Curves
26. Rolled Layered Bun
27. Criss-Cross Bun
28. Dutch braided bun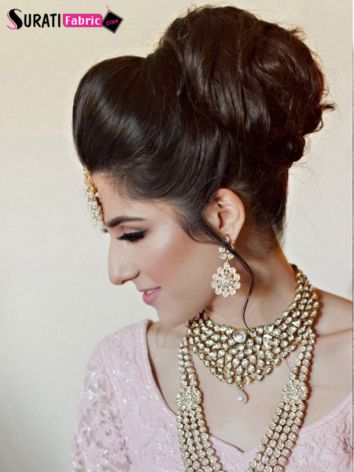 29. Front Puff Bun
30. Side-Puffed Centre-Parted Bun
31. Edgy bun hairstyle for lehengas
32. Effortless Messy Ponytail
33. Side Parted Open Hair with Jhumar
34. Side Braid Open Hair with Voluminous Curves
35. Top Knot Braided Bun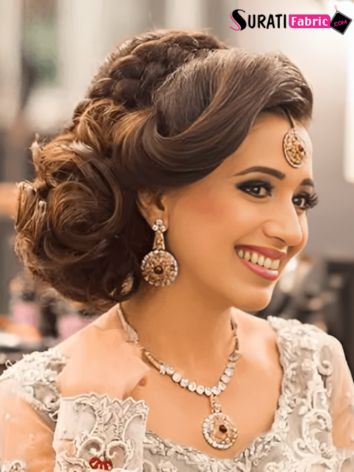 36. Voluminous Side Bun
37. Fishtail Braid with Gorgeous Jewellery
38. Braided Low Bun
39. Wavy Ponytail
40. Braided Ponytail
41. Bubble Braid with Accessories
42. Half Pun Rose Bun
43. Bow-style H alf-tied Hairstyle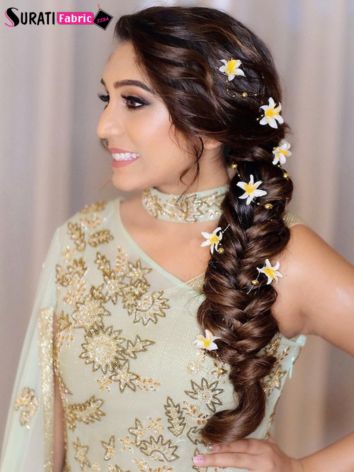 44. Western French Braid with Flowers
45. Middle parted Puff with Loose Curls
46. Braided Half Up Half Down Hairstyle
47. Messy Braid Hairstyle
48. Parandi Braid
49. Sleek Middle-parted Ponytail
50. Wide Puff with Open hair
51. Semi-braided Open Hair
52. Twisted Bun
Final Words
We have provided some of the best hairstyles for lehenga cholis that are a must-try if you want a contemporary and unique look with your lehenga. Try any of them as per your face cutting and comfort, and see how your traditional lehenga look will turn into the most stylish and attractive look. 
If you have already finalized your hairstyle, but still not get the perfect lehenga for yourself then reach Surati Fabric right now. This leading lehenga wholesaler in Surat has the world-class collection of wholesale lehengas at budget-friendly rates. You may avail the best lehenga online from Surat available at our online platform. Hurry up and grab the exciting offer.
You want to style your ethnic lehenga with stylish hair contact Fair & Glow Beauty Parlour
Also Read: 7 BEST HAIRSTYLES TO TRY ON WITH BEAUTIFUL DIFFERENT SAREES